Lenovo Tab M10 FHD Plus Tablet Review, Price & Pros/Cons
The main driving force for us while buying a Tab is to get a good quality big sized screen that one can use as a lightweight alternative to both laptop and smartphone. And that's the thing on which this Lenovo Tablet is focused at. The Lenovo Tab M10 FHD Plus is a mid-budget segment Tablet with some remarkable features. The thinner bezels and the 16:10 aspect ratio of this Tab not only enhances the aesthetics but also improves the usability & user experience. But, is this Tab of Lenovo worth the money that the company is asking for? You are going to find out in this 'Lenovo Tab M10 FHD Plus Tablet Review'.
The Lenovo Tab M10 FHD Plus Tablet hosts a whole lot of attractive traits that will make you love this device. These include MediaTek Helio P22 processor, LTE Nano SIM support, 10.3-inch TUV certified screen, kids mode and many more.
So, please read this article to the end to know all the pros/cons and the final verdict by our expert panel.
Lenovo Tab M10 FHD Plus Tablet Review- what to expect?
If you are low on time and just want a quick opinion before buying the Lenovo Tab M10 FHD Plus Tablet, here is an
Honest expert opinion summarizing this 'Lenovo Tab M10 FHD Plus Tablet Review':
| Features | Review |
| --- | --- |
| Build Quality | Great Durable metal body |
| Display Quality | Great Display with Auto-Brightness & Reading Mode |
| OS & UI | Great Android v9.0 Pie with the latest patch |
| Processor | Great GPU & Processor |
| Sound | Great Duel speakers with Dolby ATMOS support |
| Microphone | Great dual-mic setup with ANC |
| Design & Looks | Great Narrow bezels design |
| Connectivity Options | Great with Wi-Fi, 4G LTE & Bluetooth v5.0 |
| Battery | Average Battery life |
| Camera | Good camera Quality |
| After-sales service | Good service by Lenovo centers |
| Price | Good Mid-budget option |
Now, if you still want a detailed insight about each & every aspect of this tablet, we recommend you to read this article carefully till the end to get the complete list of pros/cons and the final verdict by us.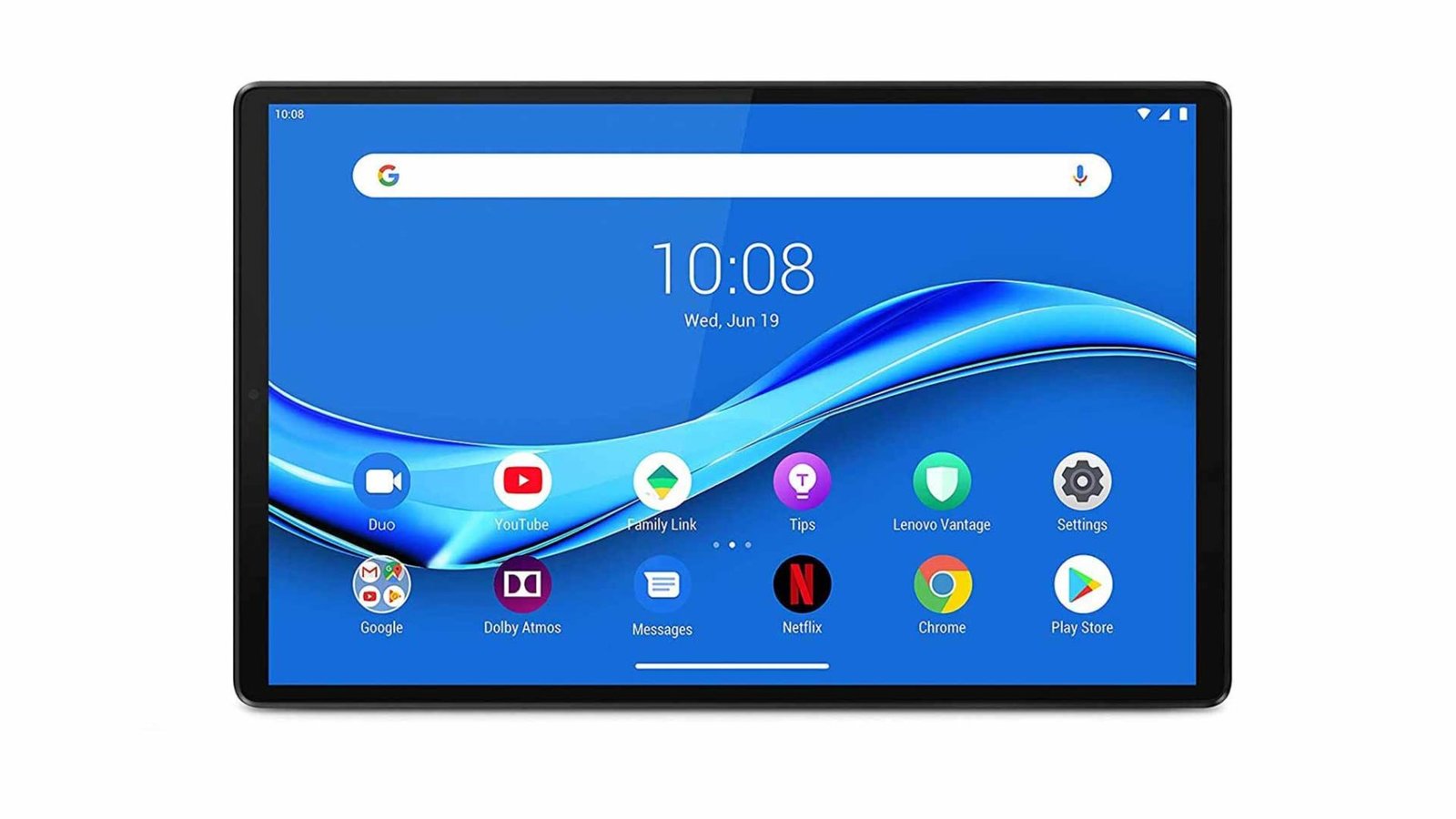 Lenovo Tab M10 FHD Plus Tablet Launch date in India
Lenovo Tab M10 FHD Plus Tablet was launched in October 2020 and is sold online through Amazon India & offline through company stores.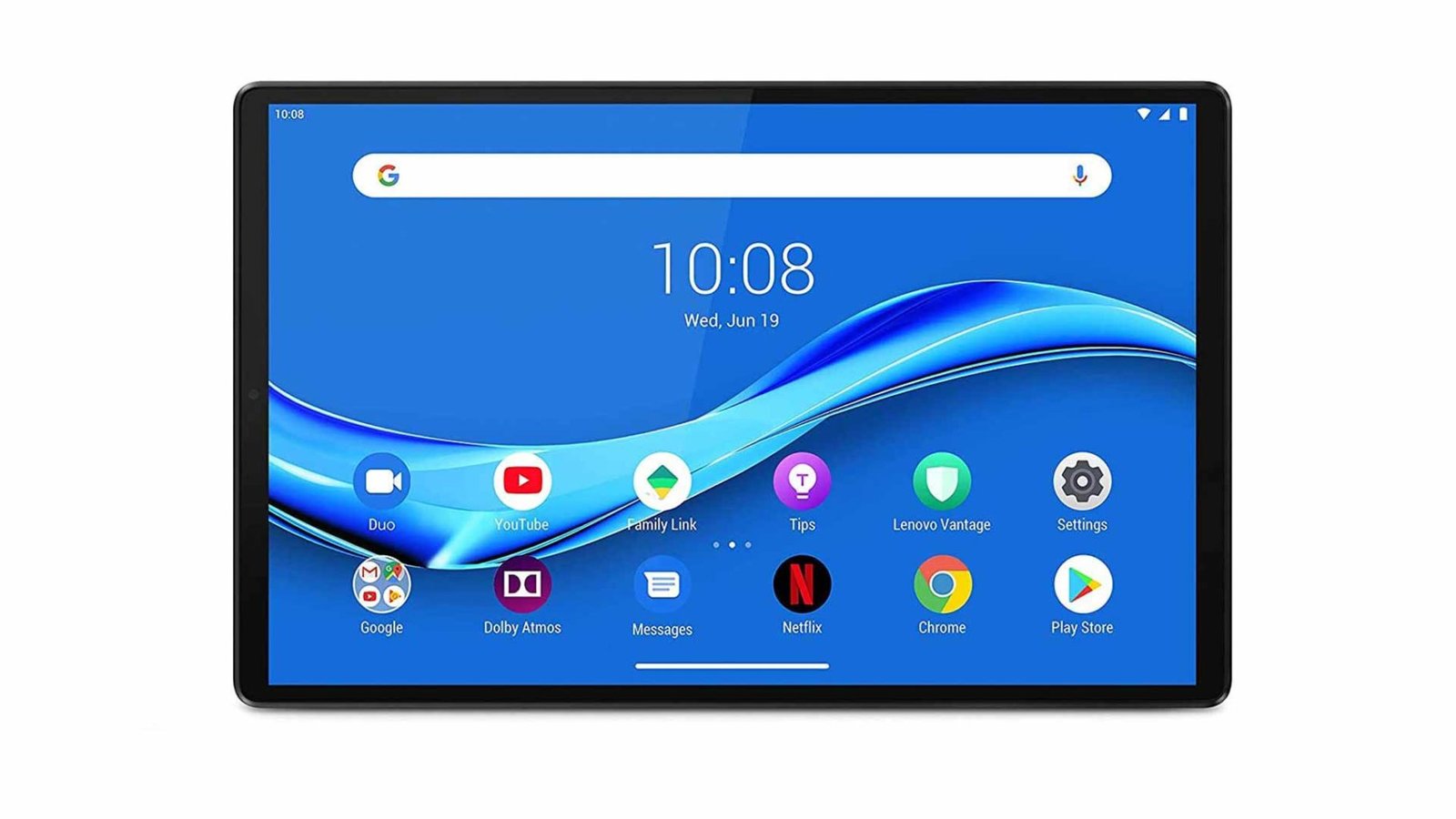 Box Content
Lenovo M10 FHD Plus
5V/2A adapter
USB Type-C
Quick Start Guide
Warranty Card
Safety Guide
Features Rating
The display quality of the Lenovo Tab M10 FHD Plus Tablet
The Good:
Lenovo Tab M10 FHD plus Tablet comes with a 10.3inch FHD display with TDDI technology. The resolution of the screen is 1920 x 1200 with 330 nits' brightness. This panel is designed to lower harmful blue light emission, thus reducing strain on the eyes and allowing comfortable usage for long hours.
It is a brilliant IPS panel with a good colour range. It allows pretty wide viewing with minimal colour change over extreme angles and has a 16:10 ratio. It is slightly bigger than most tablets on paper – they are all 10.1 inches while it is 10.3. It is as wide as two Redmi Note 8 Pro screens put side by side in the portrait mode,- which makes it quite good for reading and browsing. A4 pages zoomed in to fit edges look great because of its extra width.
It has a 'Productivity Mode' under display settings which turns the bottom Navigation bar into a PC/Mac-like Taskbar. All your open apps appear as icons and can be opened/closed directly without going into overview/task-manager mode. The home/back/task navigation buttons are pushed to a corner, which you can use with your thumb. It will take some getting used to, but this mode works better than typical standard navigation gestures.
The BAD:
Brightness isn't the highest we have seen. It has OK sunlight readability for outdoor reading/surfing. But movies/videos are best watched indoors because the screen isn't matte. It's pretty reflective in medium brightness, and you'll need a matte screen cover if you want to avoid those.
The brightness of the display is good in indoor conditions, but for outdoors, it's not sufficient. Moreover, If you're myopic/near-sighted and want to use Tablet up close without using your glasses, you're going to see a lot of 'pixelation in written text because this isn't a retina/UHD panel.
The Conclusion:
Entertainment and Reading/browsing the web is what this Tablet is best suited for. Eye protection mode works well, and you can read books for a very long time without straining your eyes. This, along with Auto-Brightness, Reading Mode, and big screen size, makes you feel like you're reading an actual paper book instead of watching it on screen.
Cyborg Tip:

Using downloadable drawing apps on this Tablet isn't much good. There's a noticeable lag when you paint/draw anything with your finger or a stylus pen. However, it has its own 'Pen mode', which you can activate by swiping from the mid-right edge. This mode is much more responsive as an OS function, and writing/drawing feels more natural. Google Keyboard's handwriting mode works well, and response is fast. Marking PDFs in Adobe Acrobat works like a charm, though you might want to buy a good quality stylus for that. Again, we cannot stress more about the fact that this Tablet is meant for reading books.
Sound Quality of Lenovo Tab M10 FHD Plus Tablet
The Good:
This Tablet comes with two side speaker setup with perfect stereo separation and Dolby Atmos support. The sound quality of this Tab is good, and it provides an immersive experience while watching movies or playing games on tablet speakers without using headphones.
At the price at which it is made available, this setup is quite appreciable.
The BAD:
Don't expect heavy bass or loudness cause they're just tablet speakers, after all. There are tablets out there with much louder sound levels. Here, the sound is just loud enough for watching videos with a running ceiling fan in your room in noisy daytime. But any more noise and the speakers won't be able to keep up. At night, when everything is quiet outside, they work much better.
The Conclusion:
Having dual mics and active noise cancellation is excellent for video/voice calls. However, as we prefer using headphones for calls so that this feature won't get used much.
Build Quality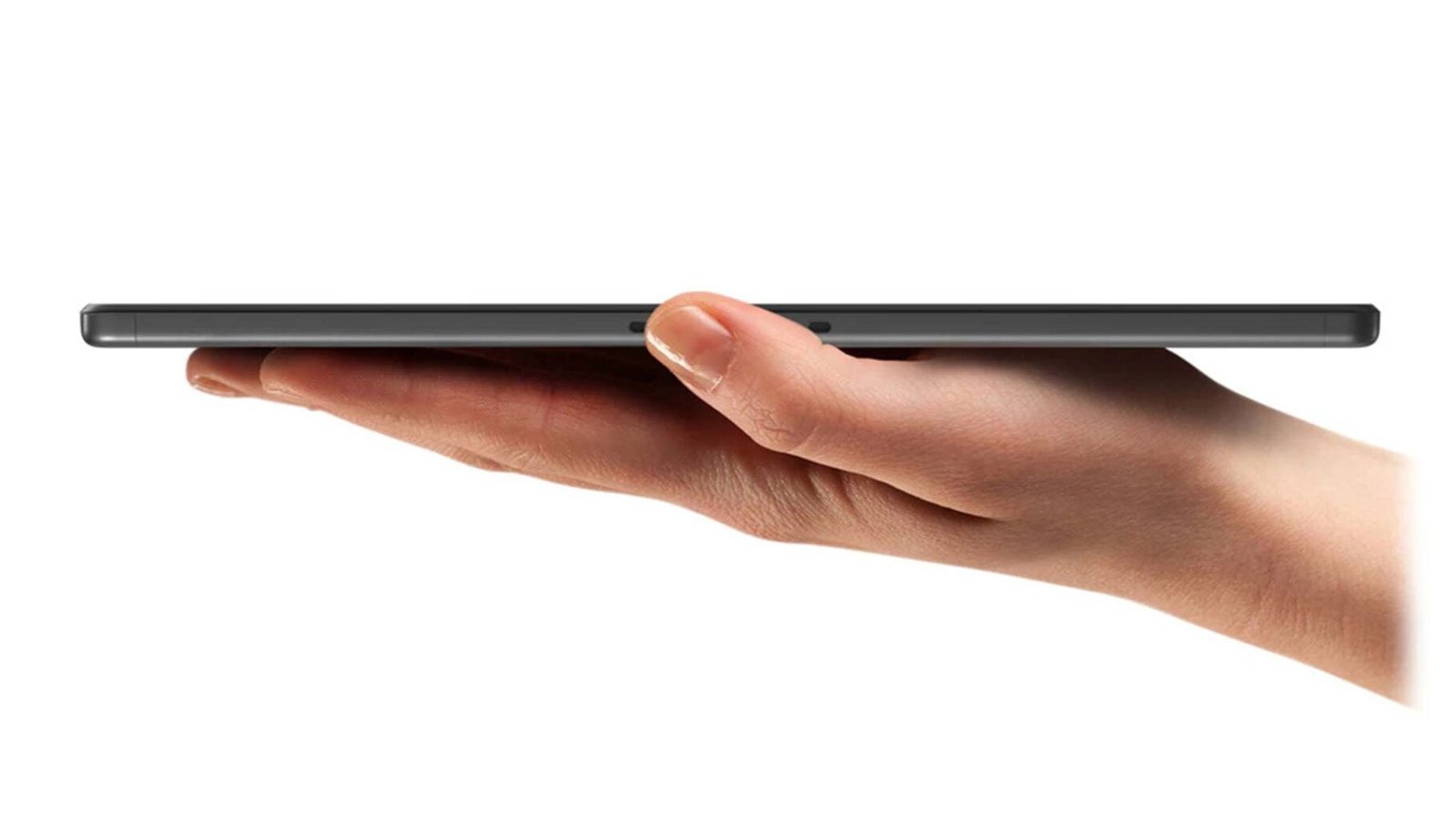 The Good:
Lenovo Tab M10 FHD plus Tablet comes with a metal body which makes it durable and provides a premium feel. It's got a good, sturdy metal-finish body with very narrow bezels around the screen. The lock button is textured and feels very nice to use. USB-C works well, and it has those "Pogo" connectors on the side (or on the bottom if you're holding it in landscape mode), which are Lenovo's connector points to attach keyboard/accessories. If you're buying a 20K tablet, you might not be going to invest in expensive add-on accessories for this. But if you already have something like an Alexa docking station, it will fit right in.
The BAD:
The backside has a tiny camera bump which will make you feel like you're going to damage the lens or something if you place it on a rigid tabletop. However, the camera isn't any good, to begin with, so I wouldn't worry about that at all. Also, there's no screen protector or cover is included in the box.
The Conclusion:
Lenovo Tab M10 FHD plus Tablet is made of sturdy and high-quality materials. We've been handling it roughly for about a month, and it's doing great so far. Still, it is a good idea to buy a cover/protector because you cannot escape screen scratches in long-term use.
Battery life of Lenovo Tab M10 FHD Plus Tablet
The Good:
Lenovo Tab M10 FHD plus Tablet comes with a 5000mAh battery, giving you a battery life of 8 hours on average. It can last up to 9 hours in web browsing, and media watching time is around 8.5 hours.
It comes with a Type-C charger and takes almost 2.5 hours to charge fully. This time fluctuates a little based on the charging adapter you are using. Moreover, It also comes with a charging dock station that comes in handy when you want to watch something or for meetings.
The BAD:
It doesn't support fast charging. Even with an 18W fast-charger, the battery charged at the same slow rate – about 2.5 to 3 hours from 1% to 100%. So, our suggestion is to use the original charger and be content with what you get instead of trying incompatible chargers and damaging the battery.
The Conclusion:
This Tablet gives enough battery time to read books for many hours with reading Mode turned on. You can turn the Read Mode off and watch HD movies for like 4-5 hours and still have enough battery left to read/browse/work for 2-3 hours. And all that is with Auto-Brightness turned on and using Tablet indoors.
With regular browsing/reading, watching Full-HD YouTube, and ample standby time in between, this Tablet easily lasts 24 hours before it needs charging.
Cyborg Tip:

To check the battery consumption during internet browsing, we charged it to 100%, inserted a BSNL SIM with an unlimited 3G data plan, and used the Tablet as Hotspot to surf the computer using its hotspot all day. If the screen was kept locked and used occasionally, at the end of the day, it had a whopping 55% battery left after such a prolonged usage of continuous 3G+Wifi hotspot at internet speeds of about 1.3 MB/sec. So, it's a great alternative that you can use as a hotspot for all your devices.
Connectivity options in Lenovo Tab M10 FHD Plus Tablet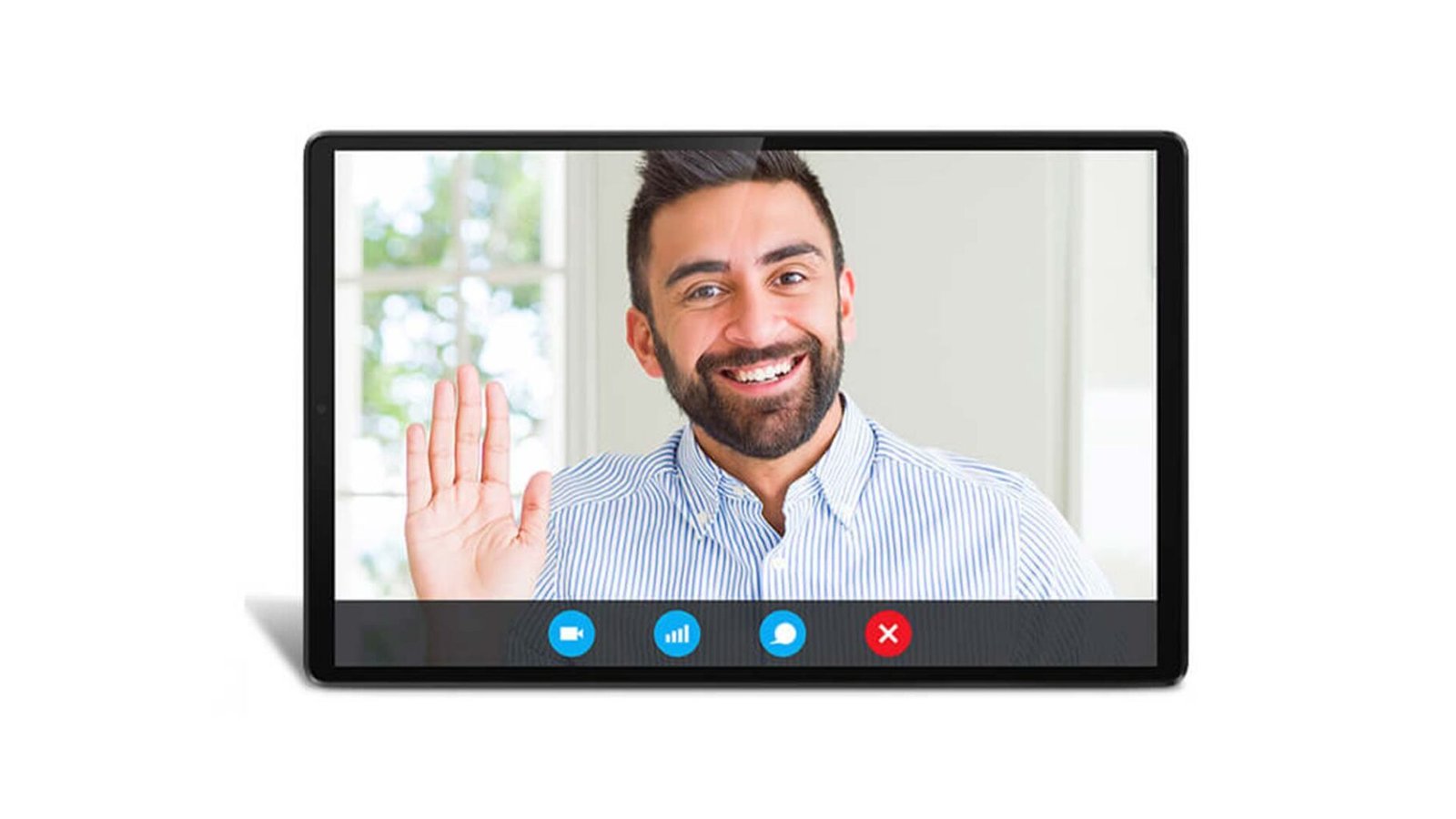 The Good:
This Tablet comes with both Wi-Fi and 4G connectivity, and it supports Bluetooth v5.0. As far as the wired connectivity options are concerned, it has a type-c port and 3.5mm port. It supports 4G SIM, Bluetooth 5.0 with all the bells and whistles. There is no infrared, though. It can simultaneously connect to a Wi-Fi, work as a hotspot router, and even has 5GHz mode for hotspot, which comes in handy when casting to an external display because 5GHz gives very minimal lag.
The connectivity range or options in this is impressive at the price point you get it.
The BAD:
There is nothing to complain about in the connectivity area of the Lenovo Tab M10 FHD Plus Tablet.
The Conclusion:
Wi-Fi hotspot has extra features like you can block devices even if they have your hotspot password. You can limit the number of devices that can connect to your Tablet (from 2 to 10), and you can see the names and software of all the connected/blocked devices. So that gives you complete router-like control over your Wi-Fi hotspot, which is a good feature.
Performance of Lenovo Tab M10 FHD Plus Tablet
The Good:
Lenovo Tab M10 FHD plus Tablet comes with MediaTek® Helio P22T Tab processor with PowerVR GE8320 Gaming GPU. It's not a Heavy-duty package but still performs satisfactorily for day-to-day usages. The Gaming on this device is suitable for low FPS strategy games but don't expect any extraordinary performance for high-end heavy graphics gaming.
Moreover, it comes with 2GB and 4GB RAM variants. Here we would suggest you go with 4GB RAM if you are looking for the best performance. Otherwise, for attending online meetings and classes and for multimedia consumption, 2GB RAM is enough.
It has a 32GB variant which is expandable up to 128GB via micro SD card. And another 128GB storage variant which is expandable up to 256GB.
The BAD:
If you are expecting high graphics settings, x264 or x265 4K videos, fast video encoding, then this Tab won't be able to do it. Gaming frame rates slow down to unplayable levels on high graphics settings, and 4K videos stutter significantly during playback in both native and MX players. Even 1080p videos, when heavily compressed in HEVC-x265 format, have frame drops when playing back some intense, detailed action scenes.
It's because LPDDR 4 RAM and PowerVR 8320 are 2017-level hardware. That's probably why this Tablet doesn't cost too much. You'll have to spend more money for powerful tablets if hard-core Gaming and ultra-high performance are what you're looking for.
The Conclusion:
If you're looking for a tablet for book reading, multi-tasking, split-screen usage, multi-tab web browsing, watching 1080p videos on YouTube/Netflix, playing videos (up to 10bit-HEVC/x265 1080p) in MX Player, or some light Snapseed/Photoshop Express editing, Office applications like MS Word, Powerpoint or play games like Clash of Clans/PUBG casually, Then you're all set. 4GB LPDDR4 RAM, Mediatek 2.3+1.8GHz CPU, and 128GB eMMC storage are enough. The hardware is mediocre and outdated, but it works well enough.
A good feature of having mediocre hardware is that it doesn't get too hot even after heavy use for a long time.
Operating system & user interface
The Good:
This device comes with an Android 9 operating system. It is a pure Android 9.0 with Feb 2020 patch, so it's as latest as Android Pie can get. It doesn't come with any customized UI, pre-installed adware, or useless apps/games that you can't uninstall – It has none of those things, making this Tablet an excellent product right out of the box.
You get an unhampered Android OS without any useless overlays using your storage/RAM. It doesn't have any OS restrictions, so you can install your own Home/Launcher app, change themes, keyboards, navigation style, etc. The UI is also lovely, and if you are familiar with any android device, you somewhat get the same features. So, there is not much to highlight here.
The BAD:
After upgrading to Android 10, you no longer control who can and cannot connect to your Wi-Fi Hotspot. You cannot limit the number of users, and you cannot even see the names of the devices connected to your Tablet's Wi-Fi hotspot.
The Conclusion:
Android 10 has been officially released via OTA upgrade for this Tablet, and it works great! Performance has become much better, and a universal dark theme is a welcome feature. There are no lags whatsoever after using Android 10 on this for about a month.
Cyborg Tip:

Attaching a wireless keyboard/mouse effectively turns the Tablet into a complete PC, with a taskbar. Using PC/Productivity mode to write documents, create presentations and chat with people is like having a mini laptop. Don't expect Samsung Dex-like freedom, though. Still, you can enable the "force resize" option in developer mode, and every app (including Instagram that doesn't support split-screen) will work split-screen in landscape mode. Switching apps from the taskbar is fast, and there's no lag that we've noticed so far.
Then again, we highly suggest you not to use bloatware apps or games and always keep a very neat, minimum set of apps with lots of free space. If done so, this Tab will run smooth like butter.
Microphone Quality of Lenovo Tab M10 FHD Plus Tablet
The Good:
It comes with a dual-mic setup which has impressive performance. You can comfortably use it for calling.
The BAD:
There are no complaints here.
The Conclusion:
Having dual mics and active noise cancellation is excellent for video/voice calls. However, you will probably be using headphones for calls, so ultimately, this feature won't get used much at all.
The camera quality of the Lenovo Tab M10 FHD Plus Tablet
The Good:
Lenovo Tab M10 FHD plus Tablet comes with an 8MP rear camera and front camera of 5MP. The camera quality of this Tab is pretty average. The rear camera can scan documents or take casual photos, and the front camera is best suitable for video calling.
The BAD:
The only thing the cameras are good for is video calling. Other than that, they're pretty much useless. You won't be able to capture much detail in the 8/5MP cameras. Even face-unlock doesn't work well in dim-lit rooms/indoors/dark conditions, where the Tablet works best, so it's a bad trade-off.
The Conclusion:
The face unlock works fine in well-lit conditions, even when you shave your beard or put on glasses. But in the dark, its screen light isn't bright enough to detect your face. Alternatively, what you can try is using a very whitish/snowy wallpaper as your lock screen and keep brightness at max – that will shine enough light on your face to unlock the screen in complete darkness.
Pros & cons of Lenovo Tab M10 FHD Plus Tablet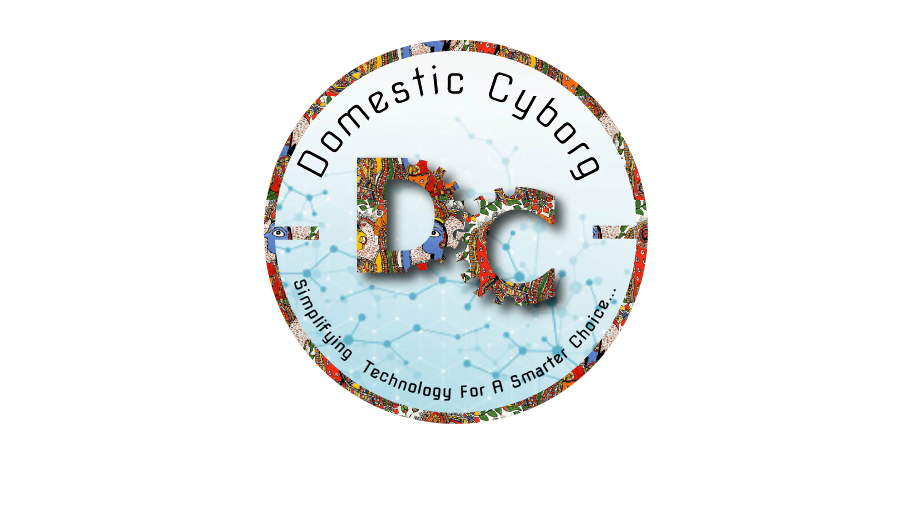 Buy for : Big storage & thin Bezels
Final verdict of this ' Lenovo Tab M10 FHD Plus Tablet Review'
The Lenovo Tab M10 FHD plus Tablet is very good at what it's supposed to do. But thinking of it as a high-performer will get you disappointed. It's a good reading/watching/working tablet with massive storage.
This Tablet has a bigger 10.3-inch full-HD IPS screen, wider 16:10 portrait ratio, 4GB RAM, proper phone-like 4G SIM with calling support, a fast enough CPU, 128 GB storage with SD-card support, USB Type-C, dual stereo speakers with dual mics, malware-free Pure Android 10, and enough capacity to play all android games on medium/low settings. There's not a single tablet in this price range that can give you all this together. It is by far the cheapest 128GB tablet, cheapest 10.3-inch Tablet and cheapest 4GB RAM tablet, and also the most affordable Android 10 tablet.
Is Lenovo a good Brand for tablet computers?
Lenovo Group Limited is a Chinese multinational technology company, Incorporated in Hong Kong in 1984. This 37-year-old company is currently the world's largest personal computer vendor that designs, develops, manufactures, and sells personal computers, tablet computers, smartphones, workstations, servers, supercomputers, electronic storage devices, IT management software, etc. smart televisions. Lenovo has manufacturing plants in over 60 countries, and it sells its products in around 180 countries across the globe.
Alternatives of Lenovo Tab M10 FHD Plus Tablet
Best Tabs under 20,000 INR
a) If you go a little low on the budget by even Rs.1000/-, the 19K tablets' specs drop down to 3GB RAM and 32GB storage, e.g., IRA, DOMO, etc., which aren't even reliable brands.
b) Going as low as 15K will get you even lesser 2GB RAM, 16/32GB storage, slower CPU/GPU, and no SIM support. e.g. Samsung Galaxy Tab A, Huawei Mediapad etc. If you're on a budget and don't wanna spend 20K, those are good enough options.
c) Going further below will degrade the specs even more and reduce screen size down to 8-inches. e.g. Alcatel 3T, Lenovo M8, Lenovo M10, Galaxy Tab A 8-inch and so on.
Best Tabs above 20,000 INR
a) iPad 10.2-inch has a larger 4:3 screen area, high-res Retina display, much faster CPU/GPU, and incredible performance. For 30K, this is the next-best option. Its downsides: you get only 32GB storage with no SD-card support, no SIM/calling support, costly accessories, and limited customization. If your concern is only performance and you don't need large storage or phone calls, better go for it because its performance is unmatched compared to this Lenovo tab.
b) Samsung Galaxy S6 Lite: A larger display, Louder audio, S-pen included (albeit a fragile one), SD-card support, 4GB RAM, faster performance, larger battery. For 28K, this is also a good option. Downside: Again, no SIM/calling, lesser 64GB storage.
Alternatives of Lenovo Tab M10 FHD Plus Tablet
Lenovo Tab P11
Display – 11 inch TDDI IPS display
Processor – Snapdragon 662
Storage – 128GB
RAM – 4GB
Camera – 13MP (back), 8MP (front)
Approx. Price – ₹25,999.00
Samsung Galaxy Tab A7
1. Display – 10.4 inch
2. Processor – Snapdragon 662
3. Storage – 32GB
4. RAM – 3GB
5. Camera – 8MP (back) ,5MP (front)
6. Approx. Price – ₹21,817.00
Lenovo Yoga Smart Tablet
1. Display – 10.1" FHD IPS display
2. Processor – Snapdragon™ 439
3. Storage – 64 GB
4. RAM – 4GB
5. Camera – 8MP (back), 5MP (front)
5. Approx. Price – ₹22,499.00