Whirlpool AC Review 2022 – Best Models for Home
Its summertime! With all kinds of things that we buy during this season, Air conditioners definitely require the most planning & investment. To make your work a bit easy, we have made the complete Review series of AC brands that will help you choose the right one most suited for your requirements. We have already reviewed some of the major AC brands, all linked at the end of this article. Now in this Whirlpool AC review 2022, we are going to explain all the technical & feature details of Whirlpool to you. Whirlpool air conditioners are a great choice if you are planning to buy an AC in limited budget without compromising on the hardware quality and features. Features like MPFI, Intellisense Inverter, PuraFresh, 6th Sense® IntelliComfort & 3D cool Technology are some of the distinguishing features of Whirlpool ACs.
Overall, we assure you that after reading this article you are going to understand that what are the things you are paying for & ultimately you will make a much smarter choice. We request you to read this article till last to get the complete Pros/Cons comparison and the expert opinion before buying a whirlpool AC for your home.
About Whirlpool AC
The Whirlpool Corporation is basically a multinational manufacturer and marketer of home appliances. Originally founded in 1911, the Nineteen Hundred Corporation was renamed as the Whirlpool Corporation. In 1951.

It is currently headquartered in Benton Charter Township, Michigan, United States. It has more than 70 manufacturing and technology research centers around the world. It's a fortune 500 company that has slowly become a consumer's favorite for AC & refrigerators.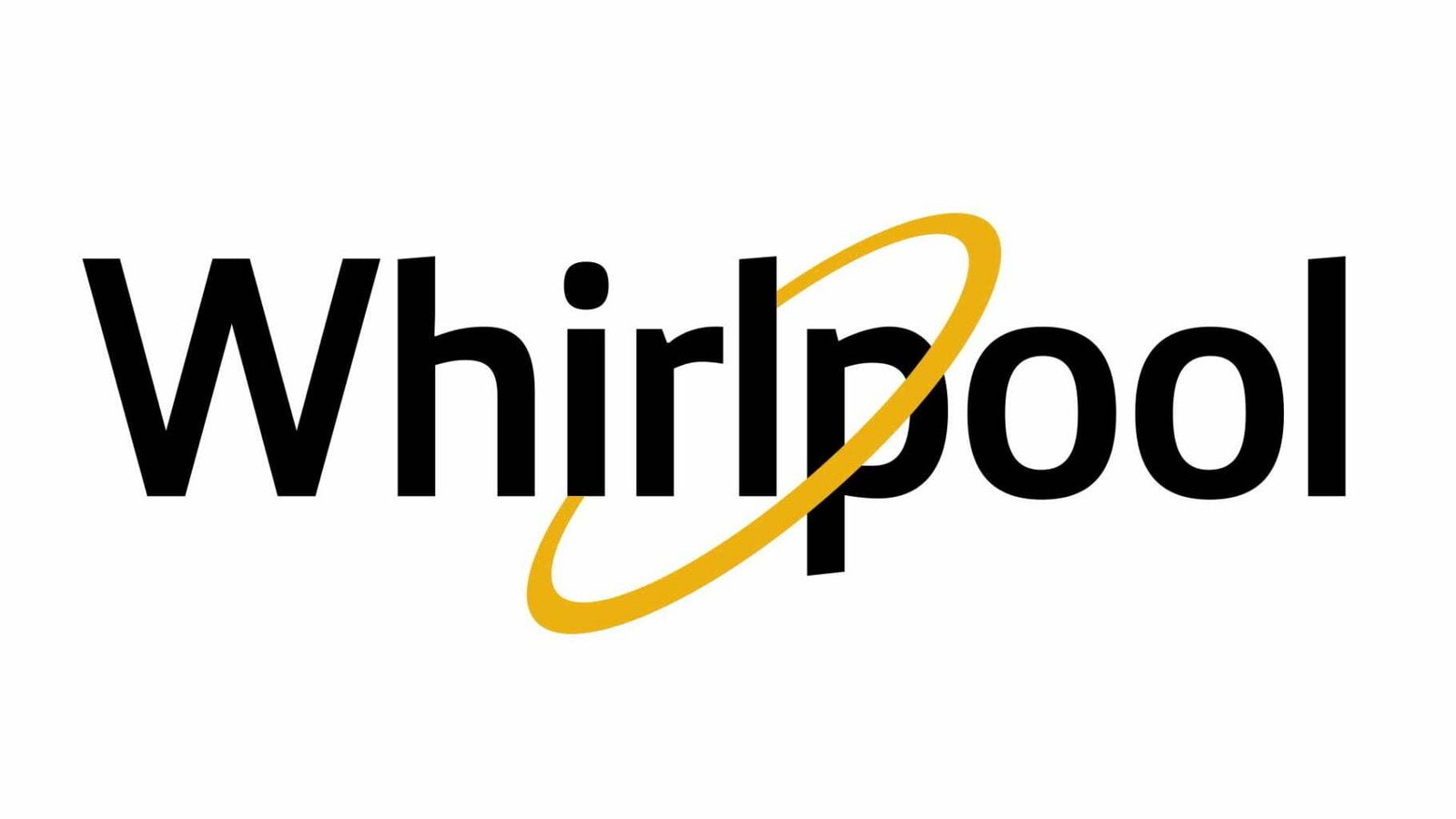 In-box items
1 Indoor Unit
1 Outdoor Unit
1 User Manual
1 Remote
Installation Pipe
Wire
Features Rating
Whirlpool AC Review Parameter #1- Whirlpool's Compressor Technology
It is not the best in class for what we get in any modern-day air conditioner. But it does its job decently enough. There are not many technical details made available on it by the company officially.
Anyhow, here are some of the vital information that we were able to dig out through various sources:
Intellisense Inverter Technology
Intellisense Inverter Technology is basically a variable speed rotary motor used by the company in the compressor. It uses sensors to optimize compressor performance.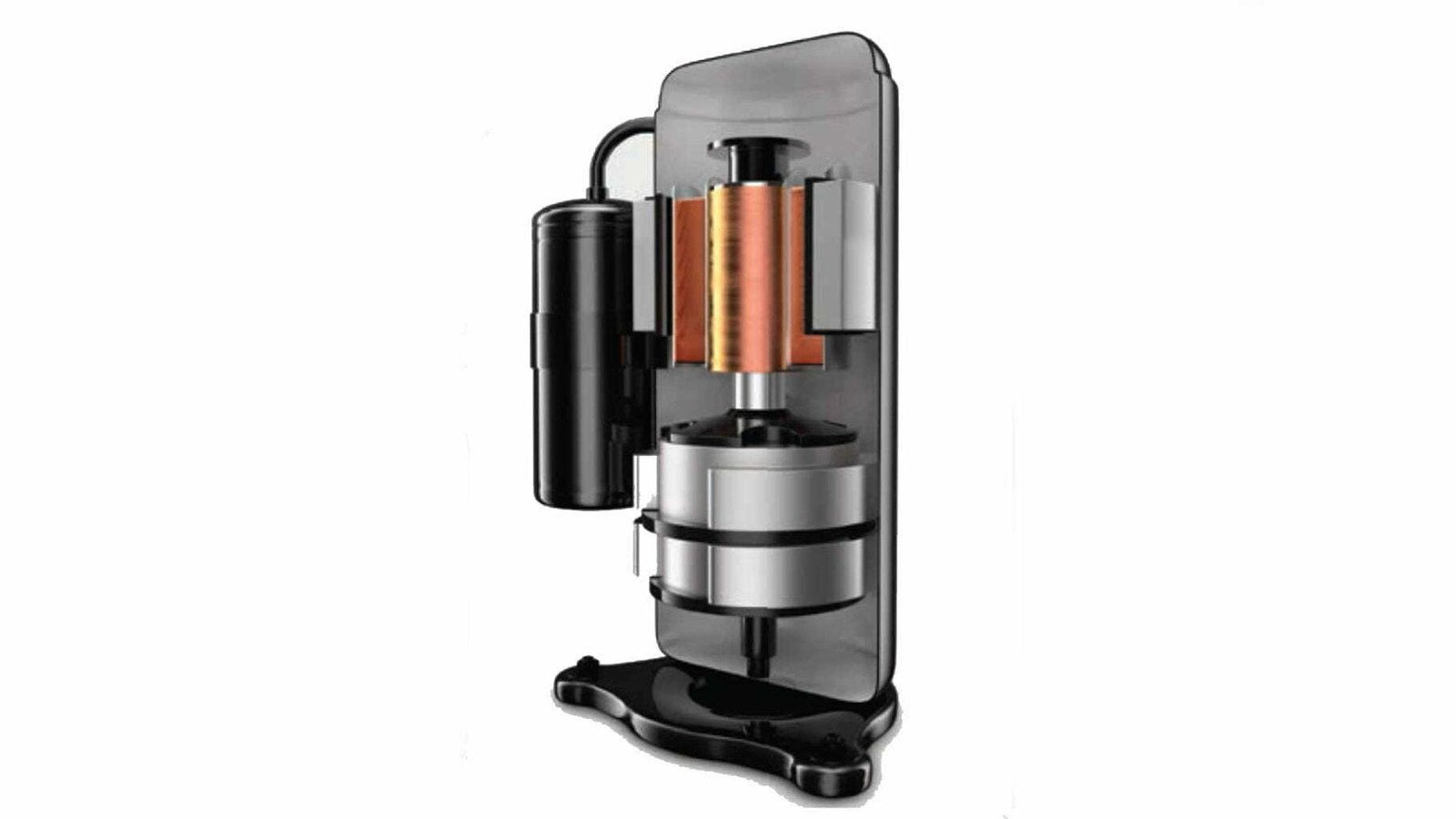 If you haven't read the Buying Guide for AC that we have specifically designed for this year 2022, we recommend you to read that first. The AC buying guide is a complete layout of the modern AC technology and also contains the Tips to choose the right AC model as per your priories & preferences. Its the guide which make you understand the similarities as well as the differences between different AC models from the Best AC brands. So, you can check it out here…

AC Buying Guide 2022 – Top 9 Best AC in India that you can buy online
Whirlpool AC Review Parameter #2- Condenser Coil
The company uses the standard 100% copper coil in its air conditioner units. Currently, it is the best material that can be used for making condenser coil considering both the economic and performance aspects. A condenser coil made of copper material has the highest efficiency & thermal conductivity compared to other options.
Here, Whirlpool lags behind its competitors by not providing any weather protection or grooved pipes, which might have taken the condenser coil's performance to the next level.
Whirlpool AC Review Parameter #3- Cooling Quality of Whirlpool
The company used the eco-friendly R32 refrigerant, which the standard refrigerant type used in modern-day ACs due to environmental concerns. The R32 is one of the highest performing coolants available for domestic usage. However, using the R32 is very common in ACs nowadays.
Other than that, to improve the cooling experience, Whirlpool has a few other modifications and technology changes. Here is a brief description:
3D cool technology
The indoor unit body is modified to intake the hot air from three directions, i.e., from the top & both sides. From the bottom side, it releases the cold air. The design modification is done so that hot air can be removed from the room faster & the room can be cooled more quickly and efficiently.

The 3D cool technology helps the AC to cool the room even at a high ambient temperature around 52-55 degrees Celsius. As an added advantage, the AC can throw the cool air up to 12m providing uniform cooling to the farthest corners of the room.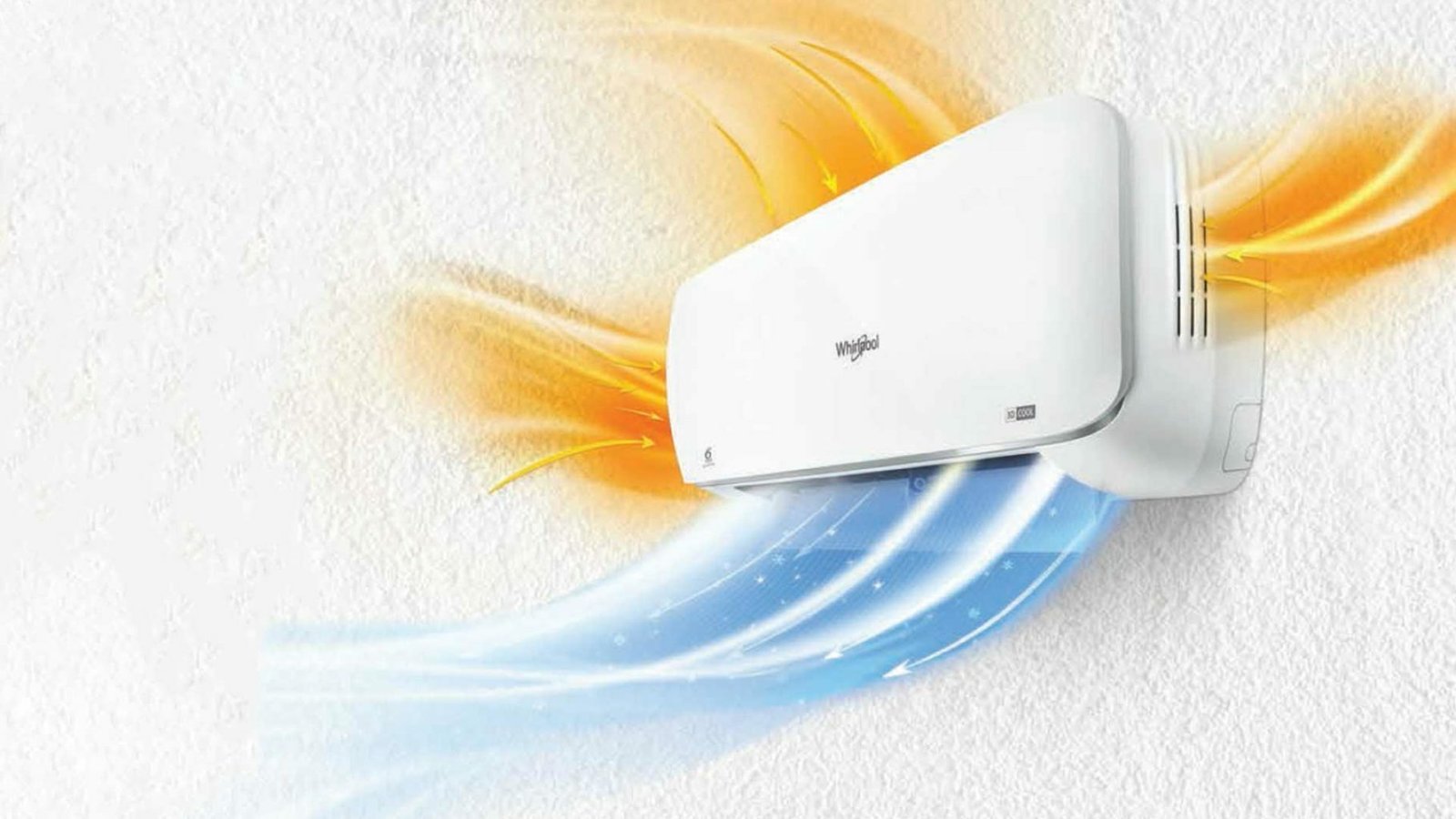 MPFI technology
The Multi-Port Fluid Injection uses a unique 4×4 evaporator circuit design for rapid heat exchange. It improves the refrigerant movement & exposer to hot air. As a result, it enhances the cooling capacity and power savings simultaneously.
Whirlpool AC Review Parameter #4 – Build Quality
The air conditioners from Whirlpool are overall sturdy & durable. But, unlike its competitors, the AC outdoor unit lacks any weather protection. So you need to watch out for it. Other than that, you won't see any manufacturing or design problems in the AC unit. The overall quality is good.
Whirlpool AC Review parameter #5 – Energy conservation measures
The whirlpool AC comes with an inverter compressor, so it performs very well in the energy conservation department. Moreover, there is a feature in several AC models of Whirlpool, enabling the AC to adjust the tonnage as per the requirement. Here is an overview of this technology:
Intelli-convert
This is the technology that enables the AC to adjust its tonnage. The company divides it into three sections sleep convert, comfort convert & capacity convert. Every section's cooling capacity & energy conservation measures are different, ensuring the best experience in any given situation.
Here, The Intelli-convert feature remarkably helps in energy conservation.
If you still want to look for some other brand with same level of trust & technology, you can check out Voltas AC. It's a great Indian brand that has the Brand Trust of TATA. To know about the technologies used by Voltas & to get the list of top AC models that you can buy in India, Don't forget to check out this article:

Voltas AC Review 2021
Whirlpool AC Review Parameter #6- Air filtration
For the purpose of air filtration, Whirlpool uses a combination of technology & multi-layer mechanical filters to provide pollution-free air. It also gets to kill the bacteria& viruses and create a healthy environment for you & your family.
Here is the overview of the technology used by Whirlpool for air-filtration:
PuraFresh technology
This technology purifies the air by using a combination of strainers to filter the dust particles of PM 0.3. It also stops the bacteria & viruses from spreading to some extent and subsequently helps the AC provide odor-free air.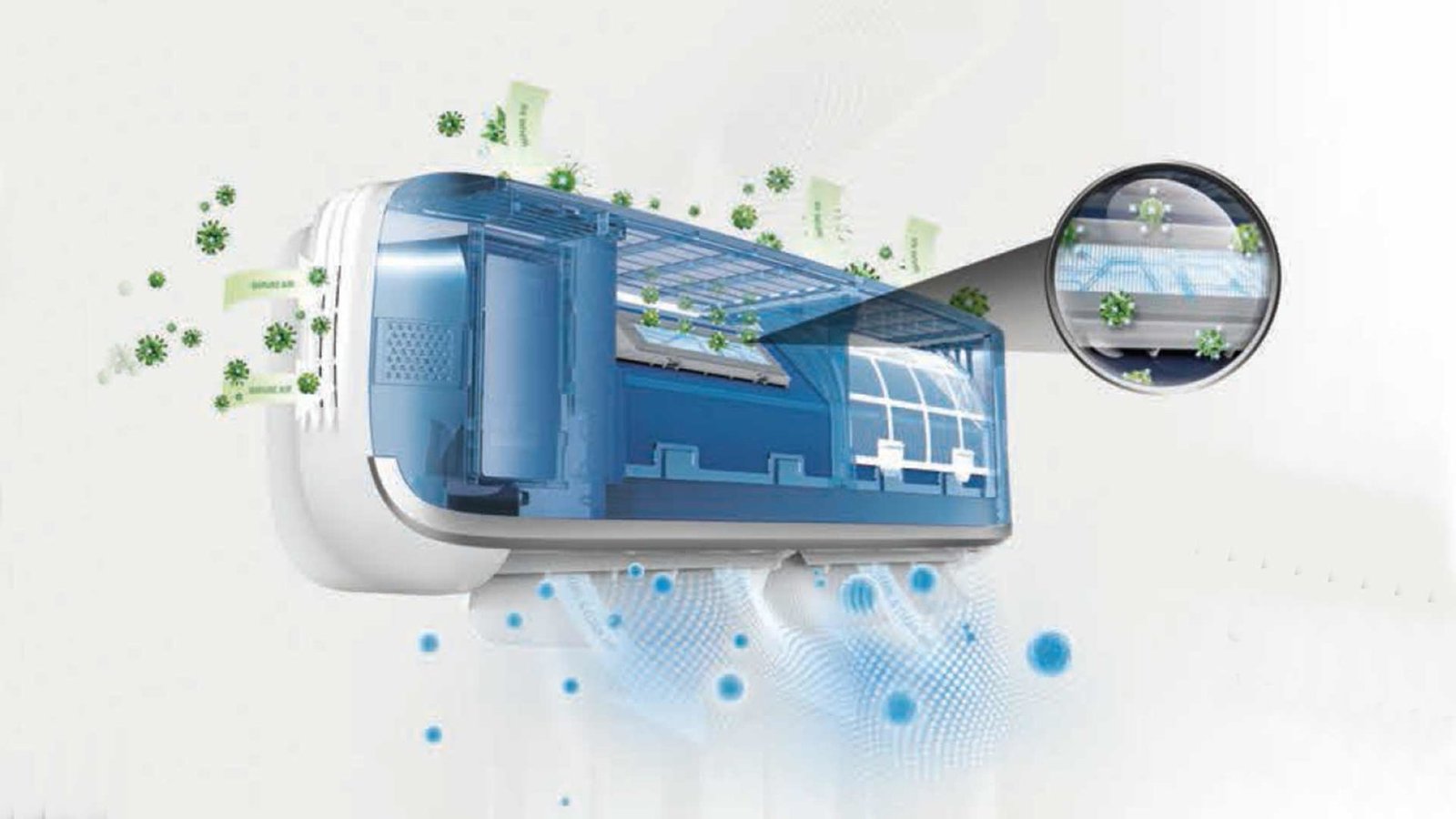 Whirlpool AC Review Parameter #7- Smart AC features in Whirlpool
Few AC segments of Whirlpool come with a smart home integration. A smart AC helps you control the AC from anywhere & use Alexa or google assistance to control it.
Here are some crucial details in this regard:
Wi-Fi & voice-enabled
Whirlpool has an application that you can download o your smartphone & pair it with your AC. This application has all the major controls of the AC. You can also integrate Alexa or google assistance of your home through this application.
6th Sense® IntelliComfort
Embedded with a Smart Intuitive Logic Chip, the technology enables smart communication between the indoor and outdoor unit to adjust and adapt the AC Operations basic humidity levels.
6th Sense mode
6th Sense Sleep Function is a mode that senses the drop in temperature during the wee hours and adjusts it to keep a comfortable temperature inside the room for a good sleep.
Features & Modes of Whirlpool AC remote control
The Whirlpool AC remote control has the following basic features:
ON/OFF BUTTON – Starts and/or Stops the AC by pressing this button.
MODE BUTTON- Used to select the operation mode.
FAN BUTTON- Used to select fan speed in sequence auto, high, medium, or low.
TEMPERATURE BUTTON- Used to select the room temperature & to set time in timer mode and real-time clock.
6TH SENSE BUTTON- Sets or cancels 6th sense operation.
SWING BUTTON- Stops or starts vertical adjustment louvre swinging and sets the desired up/down airflow direction.
SLEEP BUTTON- Sets or cancels Sleep Mode operation.
AROUND U BUTTON- When you press this button, the remote control transmits a signal of the actual room temperature around itself to the indoor unit every 10 minutes. Therefore, please keep the remote control in a location where it can transmit the signal to the indoor unit adequately. Press once to set and press again to cancel.
TIMER ON/CLOCK BUTTON- Used to set the current time and set or cancel the operation timer.
TIMER OFF BUTTON- Used to set or cancel the timer off operation.
JET BUTTON- Used to start or stop the fast cooling.
DIM BUTTON- Used to turn on or turn off display light on the indoor unit.
POWER SAVE BUTTON- Used to start or stop the power save operation.
SUPER SILENT BUTTON- Used to start or stop the super silent operation. This function is available only on specific models. Models without this function don't have the button on the remote control.
Whirlpool AC service Review & After-Sales care
This is an area in which Whirlpool needs to work a lot. Even after being such an aged & reputed company, the service quality is not good in most cities. The installation sometimes takes much more effort & money as compared to its competitors. Although, if you have a good electrician handy or willing to third-party services like UrbanClap, it won't be much of a problem.
There are no issues in product quality & performance. Still, after-sale service is indeed an area in which the company lags a bit behind other brands.
Anyways, the company has a within 24-hour service policy & you will also get separate warranties on different components. In case of any breakdown, you can register a service request on their website or call their customer care support & service. We have summarized all the Whirlpool AC service details in the following few points given below:
A standard installation will generally cost you around (₹999 +GST) & is done within 72 hrs from the time of delivery.
( Note: The installation cost may vary in accordance with the current ongoing offers.)
Some additional charges for core drilling, extra copper wire, stand/fitting & other accessories can be asked by the engineer.
Whirlpool AC customer care details
Whirlpool customer care number: 1800 208 1800 (Toll-free)
You can register for a service request by clicking here.
The standard warranty is provided in the following manner (unless specified)
1 Year on Product
1 Year on Condenser
10 Years on Compressor
Whirlpool AC service centre in your area
You can easily find a Whirlpool service centre's location in your area by clicking on the link given below and filling out the details.
Pros & cons of Whirlpool AC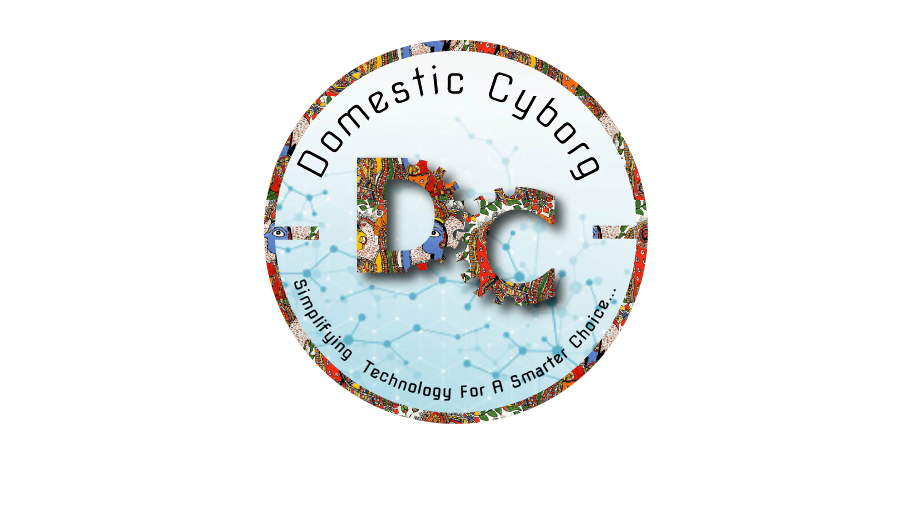 Buy if : You are on a Budget
Cyborg tip:

Suppose you don't have the proper power outlet for AC installation or don't have considered how the drain & outlet is going to work. In that case, it's possible that you might end up paying a whole lot more money to the installation engineer.

Buying the installation accessories like wall bracket, copper pipe, power plug, wires, etc., from the service engineer at the time of installation will always cost you more. So, it's better to order the extra accessories online or purchase from the local market. All you need is to make estimates of measurement & buy them prior to calling the company for installation.
Best Whirlpool AC series
Here is a list of the most popular series of whirlpool AC available in the market right now:
3D cool Wi-Fi inverter AC
This is the flagship AC segment of Whirlpool that has all the features mentioned above other than MPFI. It comes equipped with the Intelli-covert, 3d cool technology, voice & Wi-Fi & built-in purifier technologies. Overall, It is a complete package and the best you can buy from Whirlpool.
Magicool inverter AC
This is the series that comes equipped with all the performance optimization technology provided by Whirlpool. The models in this group get an advantage of MPFI & turbo cooling. This AC series by Whirlpool is mainly aimed at energy conservation & power saving.
SupremeCool inverter AC
The Supreme Cool inverter AC series is the adjustable tonnage segment of the AC by Whirlpool. It comes with the feature of Intelli-convert. Other than that, it has all the primary features of whirlpool AC, but except the MPFI technology.
PuraFresh
This AC series has an exclusive feature of PuraFresh which focuses on providing clean & pollution-free air. It is most suitable for people living in highly polluted areas. The ACs of this series also have 3D cool technology in them.
Best Whirlpool AC 2 ton (2022)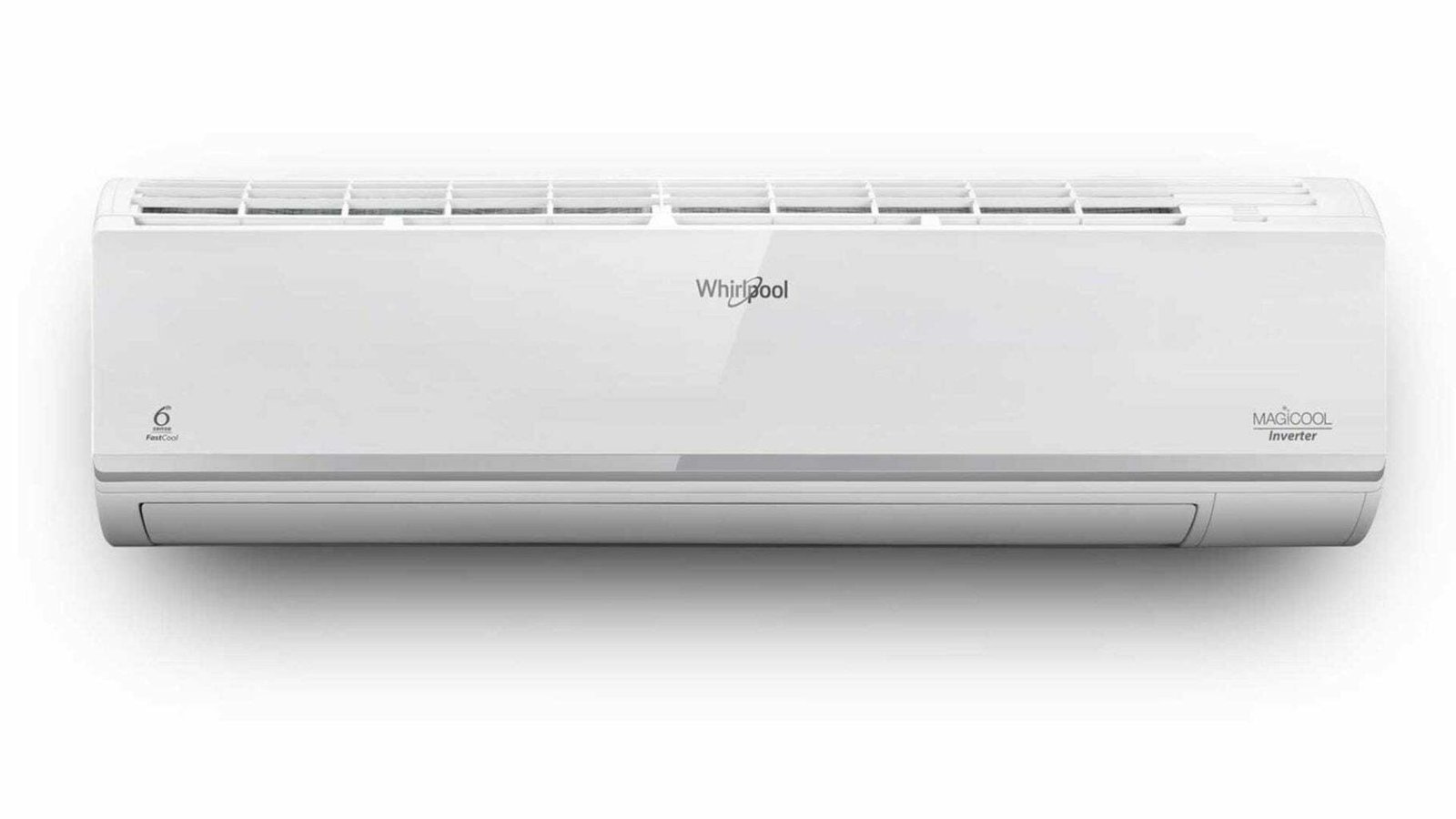 Whirlpool 2 Ton 3 Star Inverter Split AC
Air conditioner – Split AC
Model – 2.0T MAGICOOL PRO+ 3S COPR INV
Capacity in Tons – 2 ton
BEE star Rating – 3 star
Condenser Coil – Copper
Refrigerant type – R32
Suitable room size – Large sized room
Compressor – Intellisense inverter technology
Filters – HEPA filter, Dehumidifier
Other features – Turbo cool, Advance MPFI, Eco mode, Self-clean, self-diagnosis, Sleep function
Starting price – ₹ 37,999.00 onwards…
Best Whirlpool AC 1.5 ton (2022)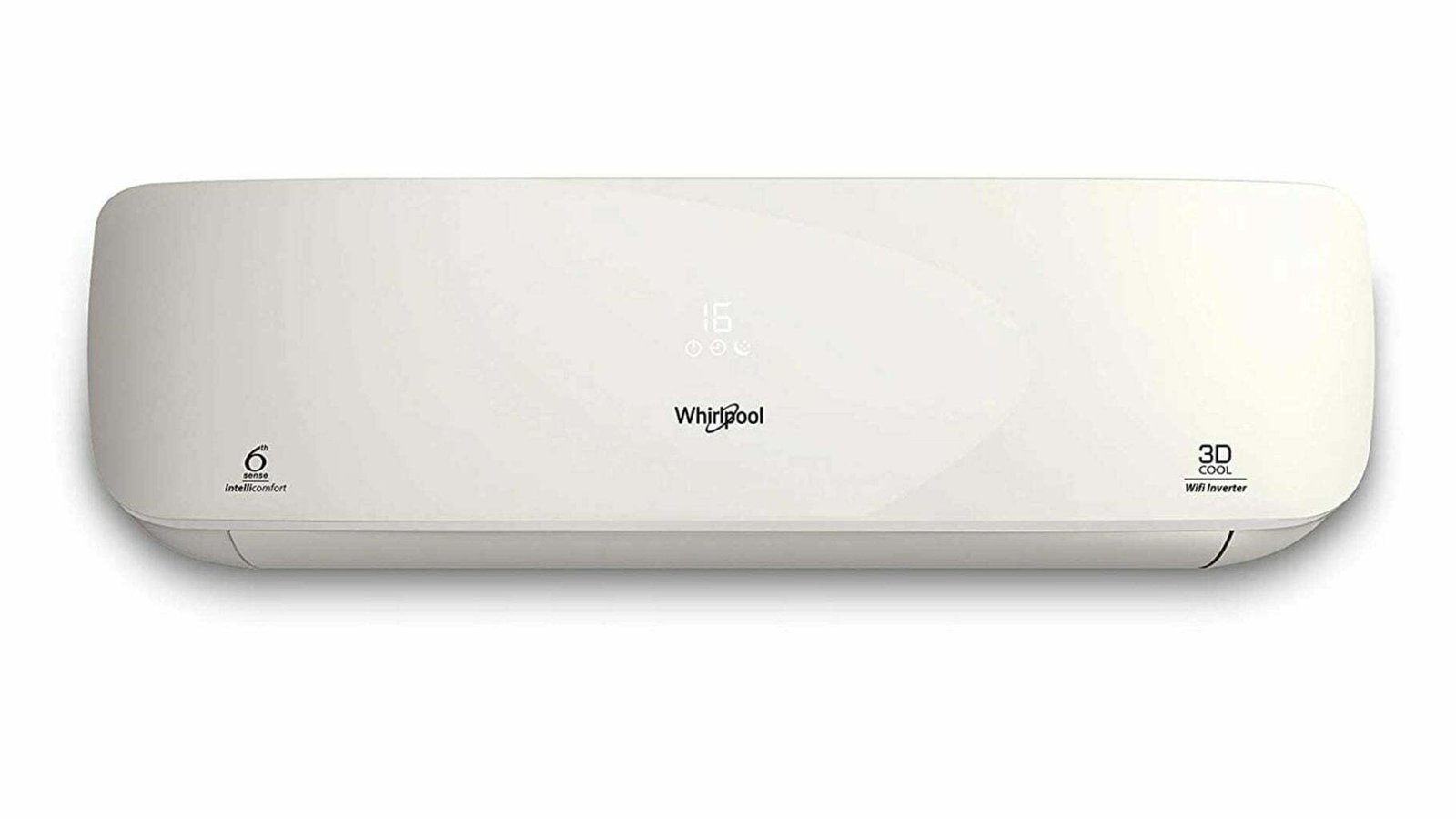 Whirlpool 1.5 Ton 3 Star Wi-Fi Inverter Split AC
Air conditioner – Split AC
Model – 1.5T 3DCOOL WIFI PRO 3S COPR INV
Capacity in Tons – 1.5 ton
BEE star Rating – 3 star
Condenser Coil – Copper
Refrigerant type – R32
Suitable room size – Medium-sized room
Compressor – Intellisense inverter technology
Filters – HEPA filter, Dehumidifier
Other features – 3D cool technology, 6thsense, Wi-Fi enabled, voice-enabled connectivity, Self-clean, self-diagnosis, Sleep function
Starting price – ₹ 37,160.00 onwards…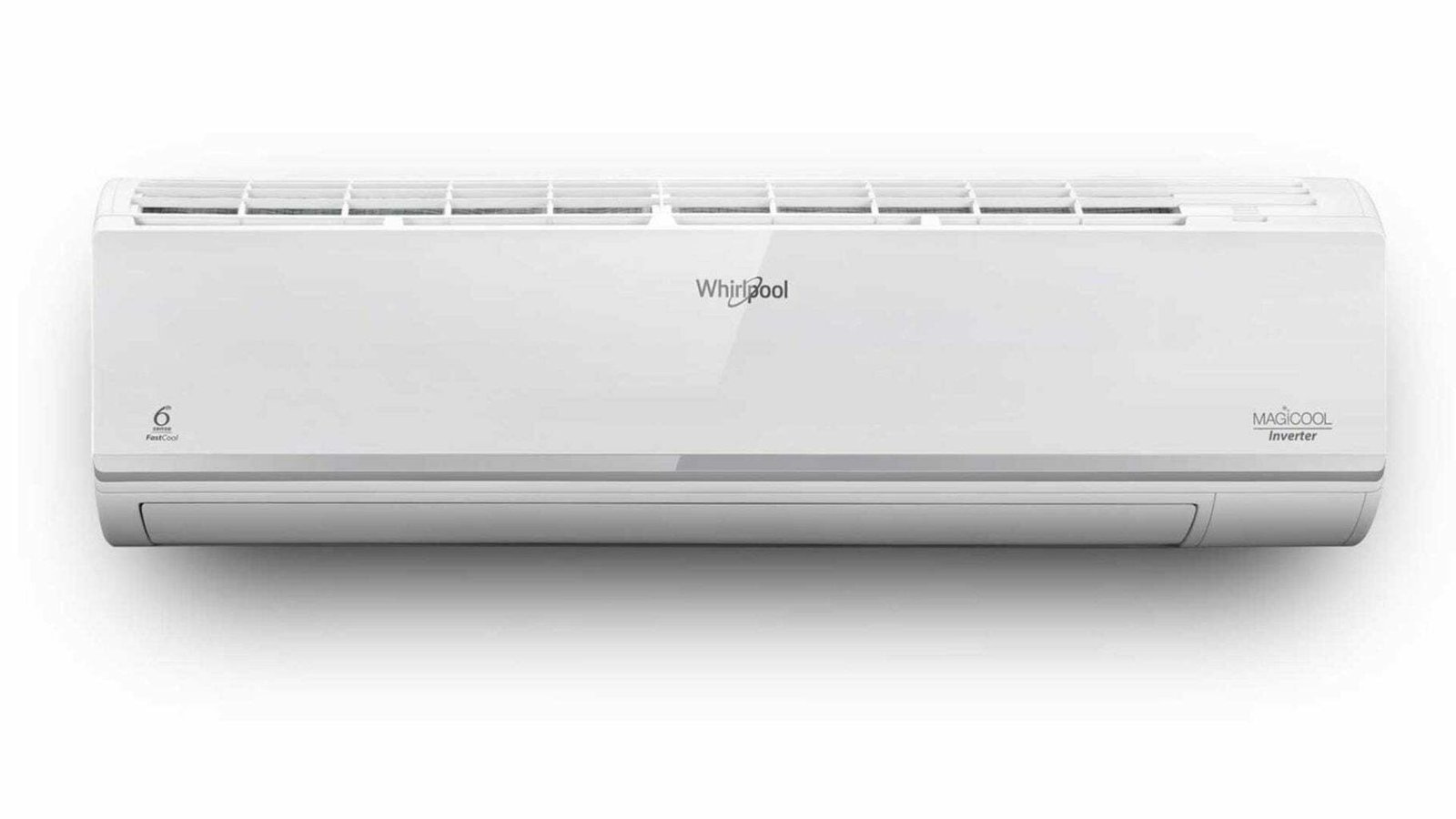 Whirlpool 1.5 Ton 5 Star Inverter Split AC
Air conditioner – Split AC
Model – 1.5T MAGICOOL PRO 5S COPR INV
Capacity in Tons – 1.5 ton
BEE star Rating – 5 star
Condenser Coil – Copper
Refrigerant type – R32
Suitable room size – Medium-sized room
Compressor – Intellisense inverter technology
Filters – HEPA filter, Dehumidifier
Other features – Turbo cool, Advance MPFI, Eco mode, Self-clean, self-diagnosis, Sleep function
Starting price – ₹ 34,499.00 onwards…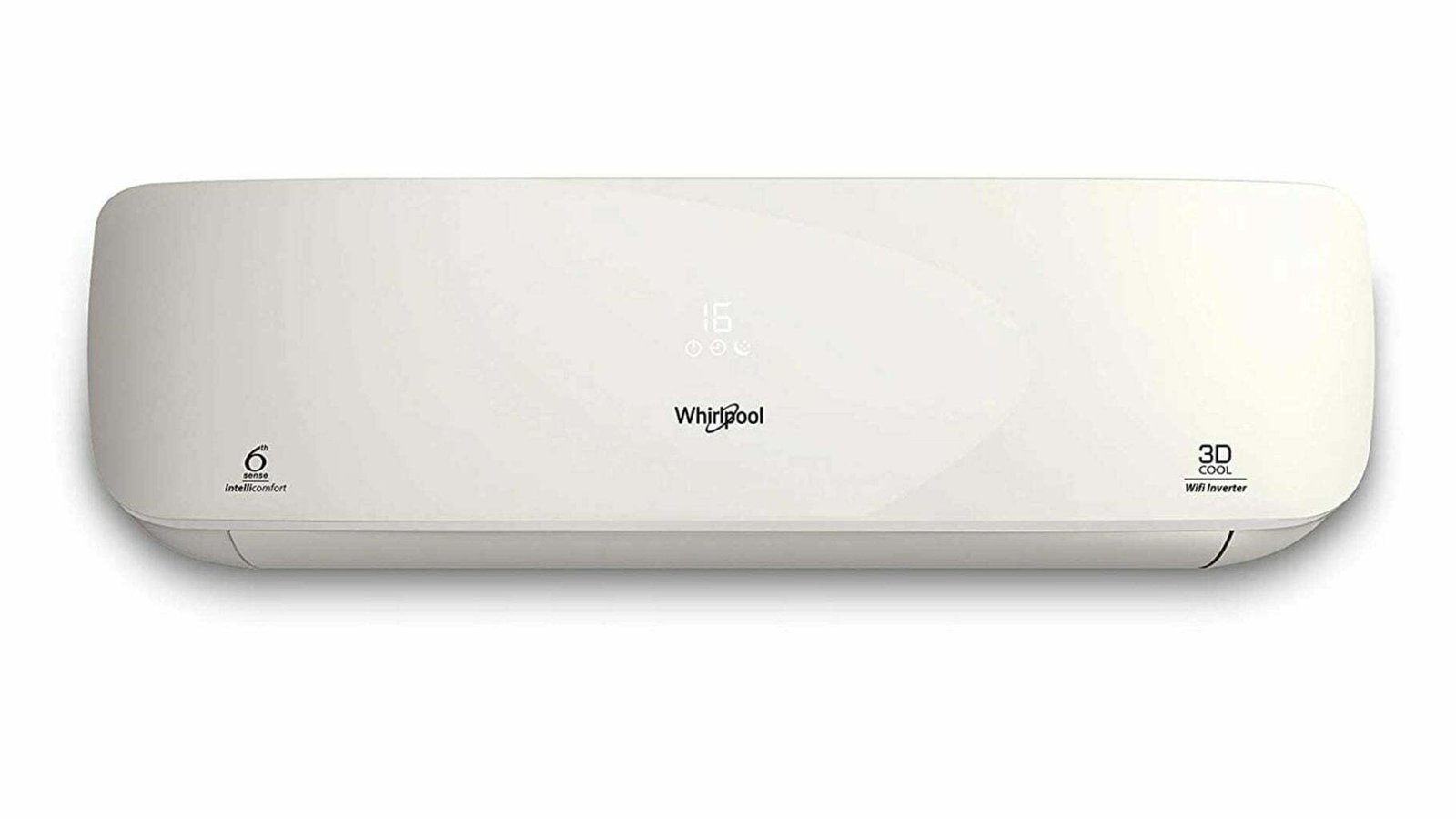 Whirlpool 1 Ton 3 Star Inverter Split AC
Air conditioner – Split AC
Model – 1.5T MAGICOOL PRO 5S COPR INV
Capacity in Tons – 1.5 ton
BEE star Rating – 3 star
Condenser Coil – Copper
Refrigerant type – R32
Suitable room size – Medium-sized room
Compressor – Intellisense inverter technology
Filters – HEPA filter, Dehumidifier
Other features – Intelli-convert, Eco mode, Self-clean, self-diagnosis, Sleep function
Starting price – ₹ 30,999.00 onwards…
Best Whirlpool AC 1 ton (2022)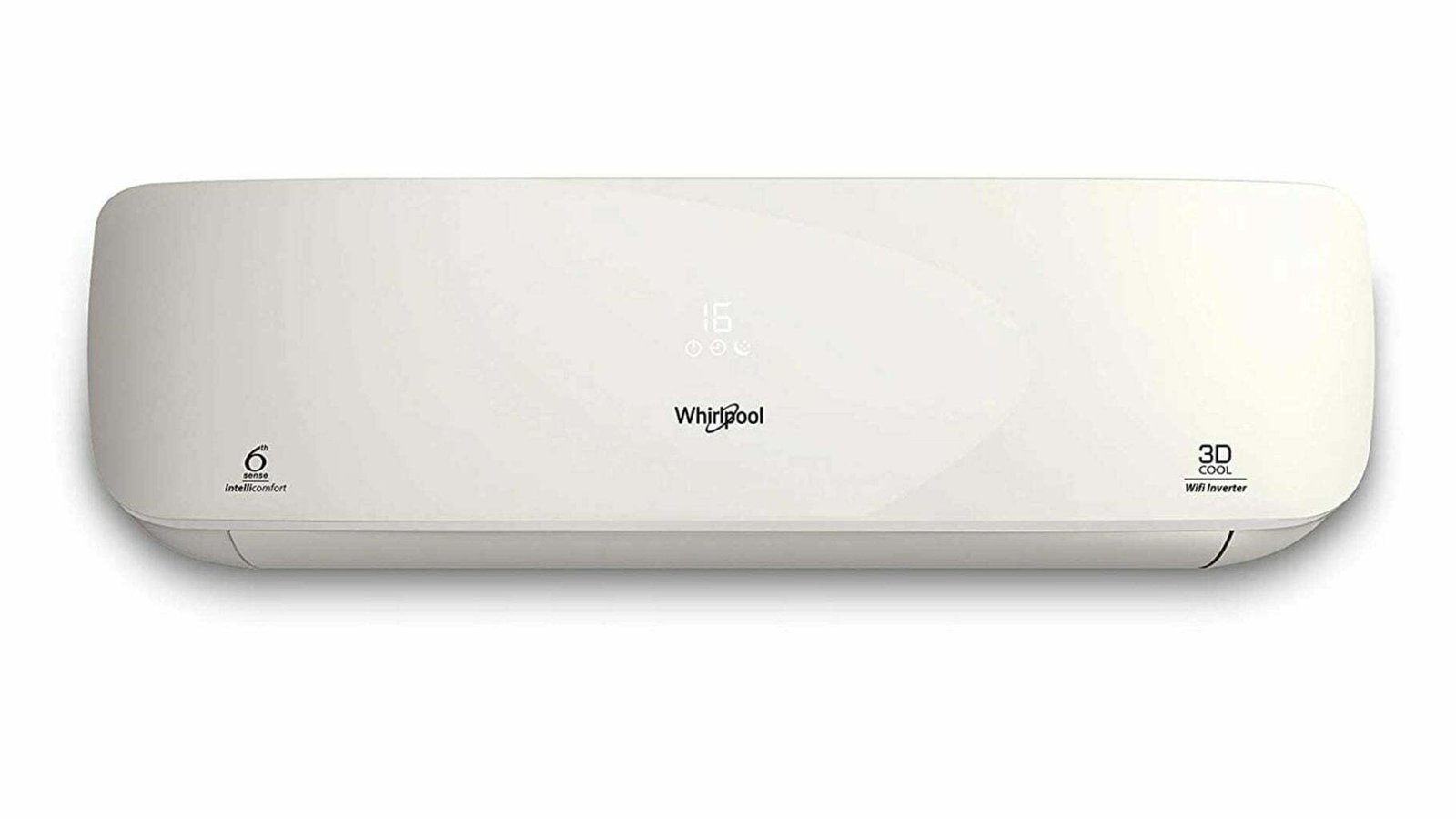 Whirlpool 1 Ton 3 Star Inverter Split AC
Air conditioner – Split AC
Model – 1.0T 3DCOOL PURAFRESH PRO 3S COPR INV
Capacity in Tons – 1 ton
BEE star Rating – 3 star
Condenser Coil – Copper
Refrigerant type – R32
Suitable room size – Small sized room
Compressor – Intellisense inverter technology
Filters – PuraFresh Technology
Other features – 3D cool technology, 6thsense, Self-clean, self-diagnosis, Sleep function
Starting price – ₹ 32,530.00 onwards…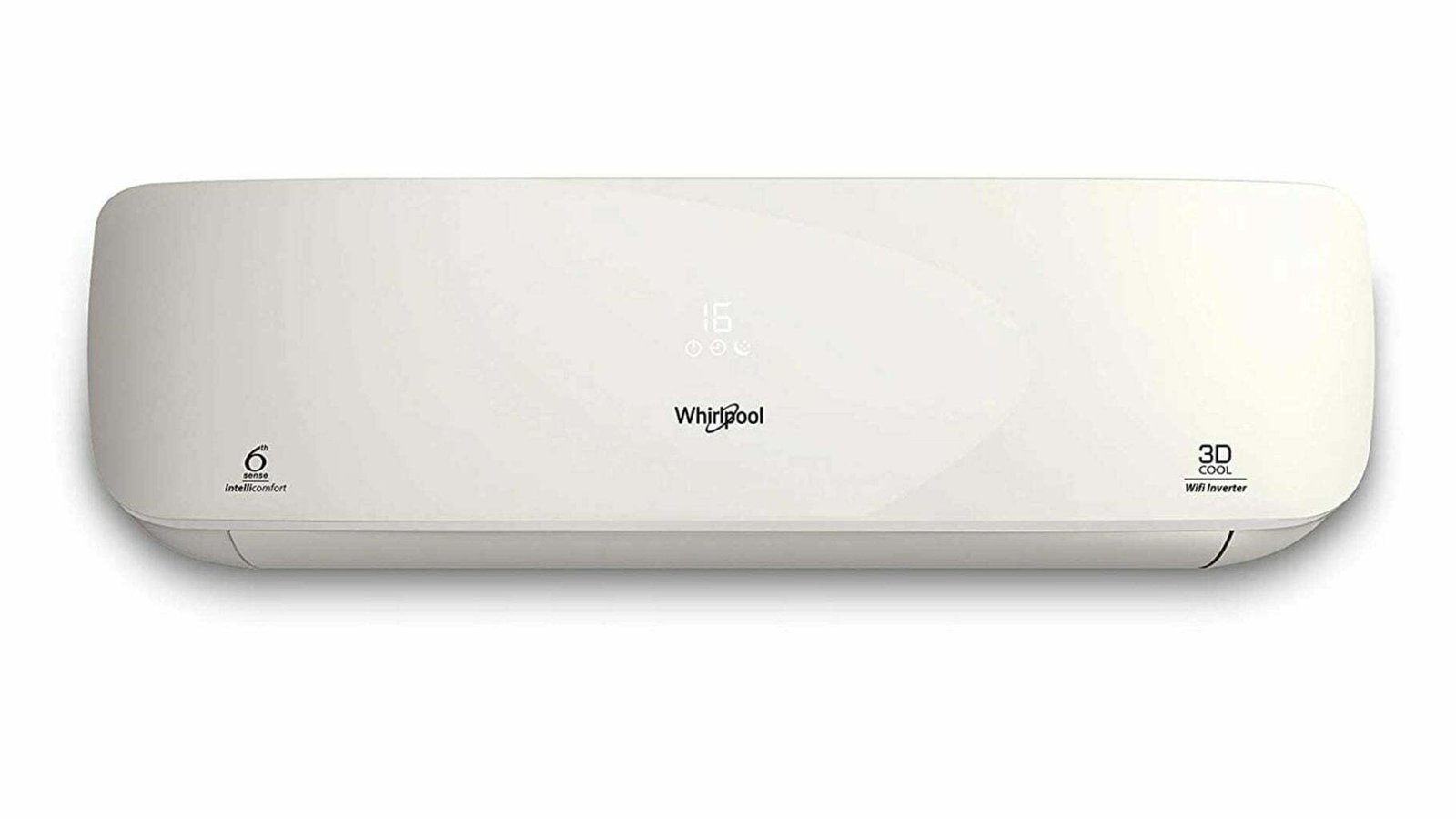 Daikin 0.8 Ton 3 Star Split AC
Air conditioner – Split AC
Model – 0.8T MagiCool 3S COPR
Capacity in Tons – 0.8 ton
BEE star Rating – 3 star
Condenser Coil – Copper
Refrigerant type – R32
Suitable room size – Small sized room
Compressor – Intellisense inverter technology
Filters – Dust filter
Other features – 6thsense, Turbo cool, Advance MPFI, Eco mode, Self-clean, self-diagnosis, Sleep function
Starting price – ₹ 22,999.00 onwards…
 If you still want to look for some other brand with same level of trust & technology, you can check out Daikin. It's a great Japanese brand that has about 90 years of experience in Air-conditioning. To know about the technologies used by Daikin & its top AC models that you can buy in India, Don't forget to check out this article:

Daikin AC Review 2022