AmazonBasics FireTV Review 2022 – Amazing or Awful !
Recently, Amazon has launched a series of 4K enabled televisions under its brand of AmazonBasics. These are named AmazonBasics FireTV Edition and are excellent budget options under an Amazon-owned brand name. Today, in this AmazonBasics FireTV Review, we will check what these TVs have to offer to the user. We will also evaluate all the features of this television against the features provided by other brands in a similar price bracket.
We recommend you to go through the article carefully to get a complete idea about the product. And if you like the AmazonBasics FireTV Edition, please don't miss out on the SmartBuy link that we have provided at the end of this article for a quick & convenient purchase.
What is AmazonBasics?
AmazonBasics is a private-label owned by Amazon that offers home goods, office supplies, and tech accessories. It is a brand extension by which Amazon aims to enter the offline market in India. AmazonBasics was launched in 2009 and slowly become the best-selling private label brand on Amazon.com.
In-box contents
1 LED TV
1 Table Top Stand
1 Wall Mount
1 User Manual
1 Remote Control
2 AAA Batteries
1 Power Cord
1 AV Converting cable
1 IR Extender Cable
Features Rating
Here, we strongly recommend you to read this Beautifully written "TV Buying Guide 2022" to get a clear perspective of what to look for in a great TV. Doesn't matter if you buy online or offline !

TV Buying Guide 2022- Best TV brands in India
AmazonBasics fire TV display review
The display quality of AmazonBasics fire TV is good respective to the price segment it comes in. The 4K variant of AmazonBasics fire TV is great but don't expect any extraordinary picture quality from it on the name of 4K as it's a budget-friendly TV. There are also two other full HD & one HD-ready variant, which have an excellent picture in their price segment.
The color saturation of AmazonBasics fire TV is balanced & it looks close to real colors. The upscaling of lower resolution to higher resolution is excellent. Also, the brightness of the screen is good & you won't face any problem even in high ambient light conditions.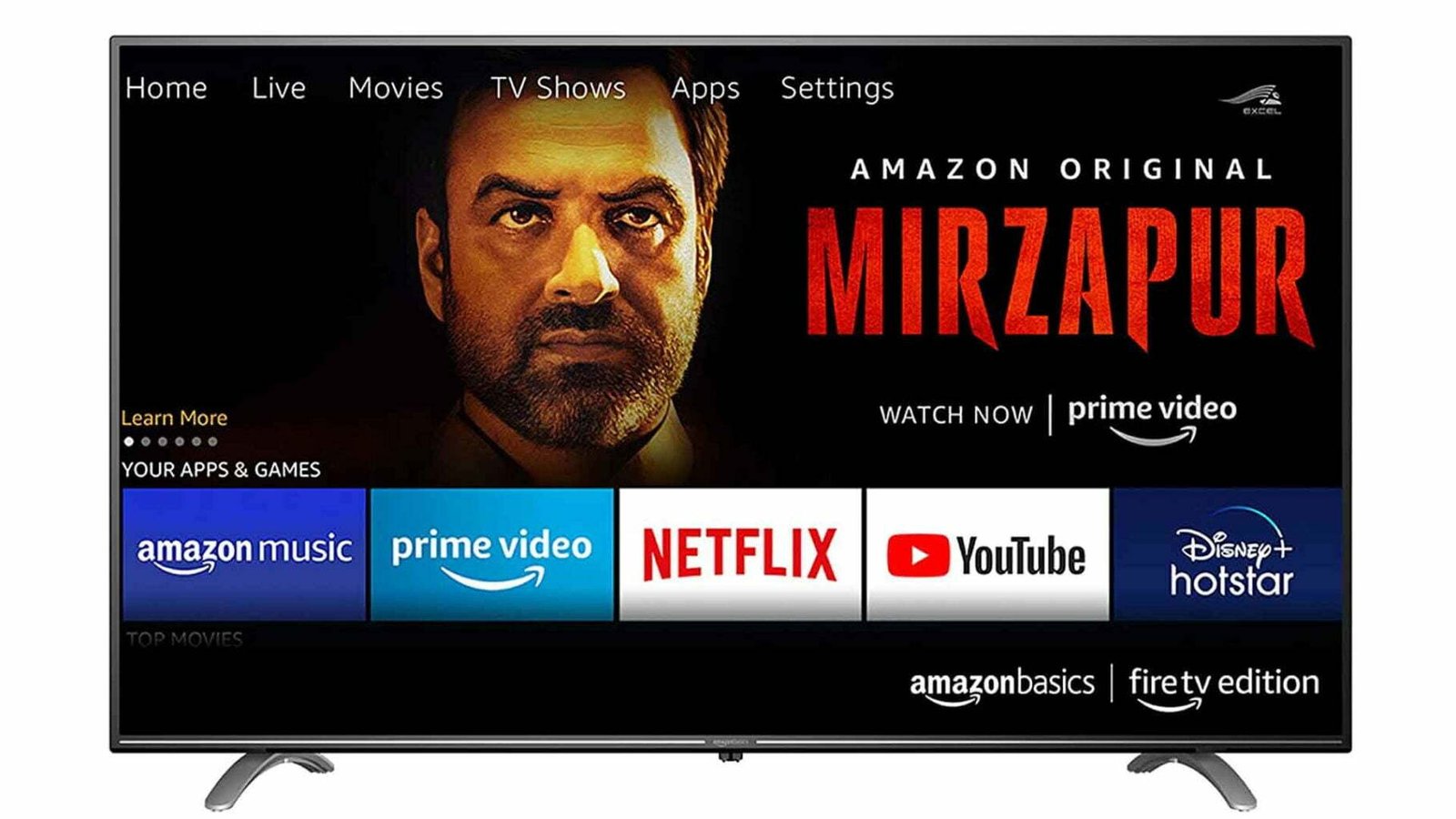 Display panel
The AmazonBasics fireTV comes with an A+ grade display panel. It means the panel used in these TV are of the best quality. The A+ grade panel represents a close to transparent panel, which leads to better color & contrast. The A+ grade panel is free from defects like spots, scratches & leakages, which means no unnecessary light escape and degrading of the TV's picture quality.
Display resolution of AmazonBasics FireTV
The AmazonBasics FireTV comes with three different resolutions.
They have launched three 4K variants of 55-inch, 50-inch, 43-inch display. Except that, there is one HD-ready 32-inch variant and a 43-inch full-HD variant.
Picture enhancing systems & supports
In today's world, every TV manufacturer uses various methods to optimize & enhances the picture quality. So, here the systems & supports that you get in this AmazonBasics FireTV series.
Dolby vision
Dolby's vision is a delivery format. It supports both high dynamic range (HDR) and wide color gamut at all stages, from content creation and production to transmission and playback. Dolby Vision can encode mastering display colorimetry information using static metadata (SMPTE ST 2086) and dynamic metadata (SMPTE ST 2094-10, Dolby format) for each scene.

The AmazonBasics fire TV has Dolby vision, but it's not that good as what you get in higher price segment & premium models. It looks like it has been certified just by crossing the bottom line of requirements. You also need to note that the Dolby vision is not available in the lowest two variants.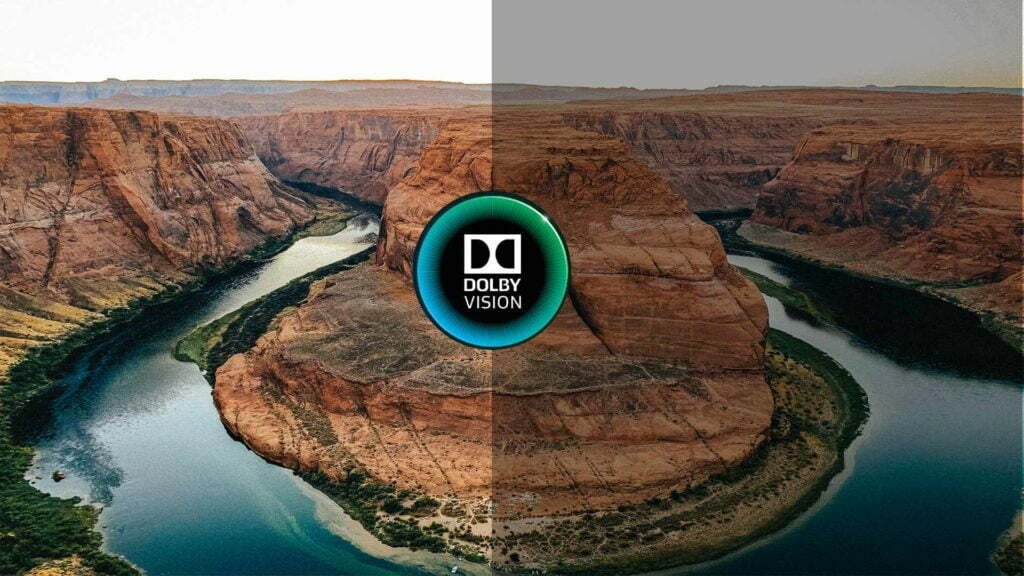 HDR 10
HDR 10 is the base level feature in any TV that supports HDR. In the current market scenario, it has become a standard for any TV to be HDR compatible. People now are used to seeing the HDR content & if they encounter SDR content, it will certainly not look right. HDR ensures the colors in the picture look real or close to what we see through our eyes.
Anti-aliasing
It is a process used for smoothing the edges of a pixel in order to make it look smooth. Every picture is made up of pixels, and depending on the image, every pixel has a different color. When this pixel together forms a picture, anti-aliasing blends a pixel with the next pixel, so that colors are combined together & the viewer won't see any edges of the pixel in the picture.
It is a necessary feature in larger-sized TVs because every content we watch doesn't have very high resolution & quality. The picture quality drastically decreases when the TV doesn't do anti-aliasing.
Dynamic contrast
It is a feature that improves the contrast ratio of the pictures. It makes the darker area darker and the lighter area lighter. It is a significant concern for viewers who love to watch shows which have more night scenes. With such viewing habits, the contrast ratio plays a vital role in the whole viewing experience.
Such features are readily available in most TV nowadays; only their effectiveness differs. However, for AmazonBasics FireTV, it is the best what we get in this price segment.
Dynamic backlight
It is a feature used to control the backlight intensity. This feature's effectiveness depends on how well managed the backlights are for the different picture or video types.
MPEG noise reduction
As the name suggests, Noise reduction reduces the noise in the picture. Noise in an image is what we see as small dots or lines that are not a part of the picture and make the picture look unnatural. It mainly happens when the TV tries to convert the lower quality of signal or data to a higher image or video quality.
The MPEG noise reduction tries to reduce the noise by lowering the details of the picture. It is only beneficial when the videos you are watching need to be improved by the TV. Otherwise, if you have high-quality video, it only degrades it by reducing the details.
In AmazonBasics FireTV, this feature does the job that any standard MPEG noise reduction will do.
AmazonBasics fire TV sound review
The AmazonBasics FireTV has a basic 20 watts speakers. In this department, it lacks behind its competitors a bit. But, here is a thing you need to consider before altogether rejecting due to its sound.
Any TV, especially in this price range, will not have any extraordinary speakers to make theatre-like environments. So, If you are looking for the best sound experience, you will always need to add a soundbar or external speakers to your TV.
Even then, the speakers are enough for regular TV watching & there are other features in this TV which are more appealing for an average user.
Sound enhancing systems & supports
Dolby Atmos
Dolby Atmos expands the creative palette for artists and creators. Instruments and vocals can be isolated and articulated with incredible clarity. And the use of multi-dimensional space makes listeners feel like they've stepped inside the song.

It is one of the most advanced audio codec available in the market, but it doesn't mean the sound quality will be extraordinary in AmazonBasics FireTV. As mentioned before, this TV doesn't have the hardware capacity for it. So, on this TV, this is just a fancy certificate.
DTS TruSurround
DTS TruSurround is the technology that is responsible for producing surround sound. Technically, an audio codec enables the creators to preserve or create audio that gives you a perception of sound coming from different directions.
Dolby Audio
Dolby Audio is the technology for surround sound. This similar to DTS but a more compressed type. The company claims that the sound quality is not affected by it.
In the AmazonBasics FireTV, DTS TruSurround & Dolby Audio are in the lowest two variants while all other variants are Dolby Atmos certified.
AmazonBasics FireTV review: Build quality & looks
AmazonBasics FireTV has an overall good build quality & has average looks. These TV units are not very slim but not very thick either & lie somewhat in the middle grounds. Other than that, you will also find bezels around the screen, but it's not very thick.
Overall, The body of AmazonBasics FireTV is well built. It looks premium & free from any manufacturing defects. You will have no complaints about its build quality & looks.
AmazonBasics FireTV OS (operating system)
The operating system is the main reason which stands it out from its competitors. Its OS is well optimized to take out the maximum output from the hardware. The Fire TV OS is very user friendly. It has DTH Set-Top Box Integration to switch between DTH TV Channels and OTT apps from the home screen. Unlike others, you don't have to change from one input to another input method to use DTH TV channels.
It also has Alexa integrated into it & you can use it from your remote just with a button.
Processor Review of AmazonBasics fire TV
The AmazonBasics FireTV comes with a quad-core processor & an 8GB flash memory sufficient for any regular operation you perform on TV.
Moreover, 32-inch, 43-inch lowest variant comes with Amlogic 7th generation imaging engine with 1GB RAM. And other higher variant 55-inch, 50-inch, 43-inch 4K TVs comes with Amlogic 9th generation imaging engine & 1.5GB RAM.
The processor used in AmazonBasics fire TV is not the best in the segment, but the highly optimized OS utilizes the hardware very well and makes it sufficient.
In any TV model, it's not that you shouldn't look for the best processor. But, a well-optimized system is far better. Because if you need high processing power, it is preferable to do that thing on a PC or attach the CPU to a larger display.
AmazonBasics fire TV connectivity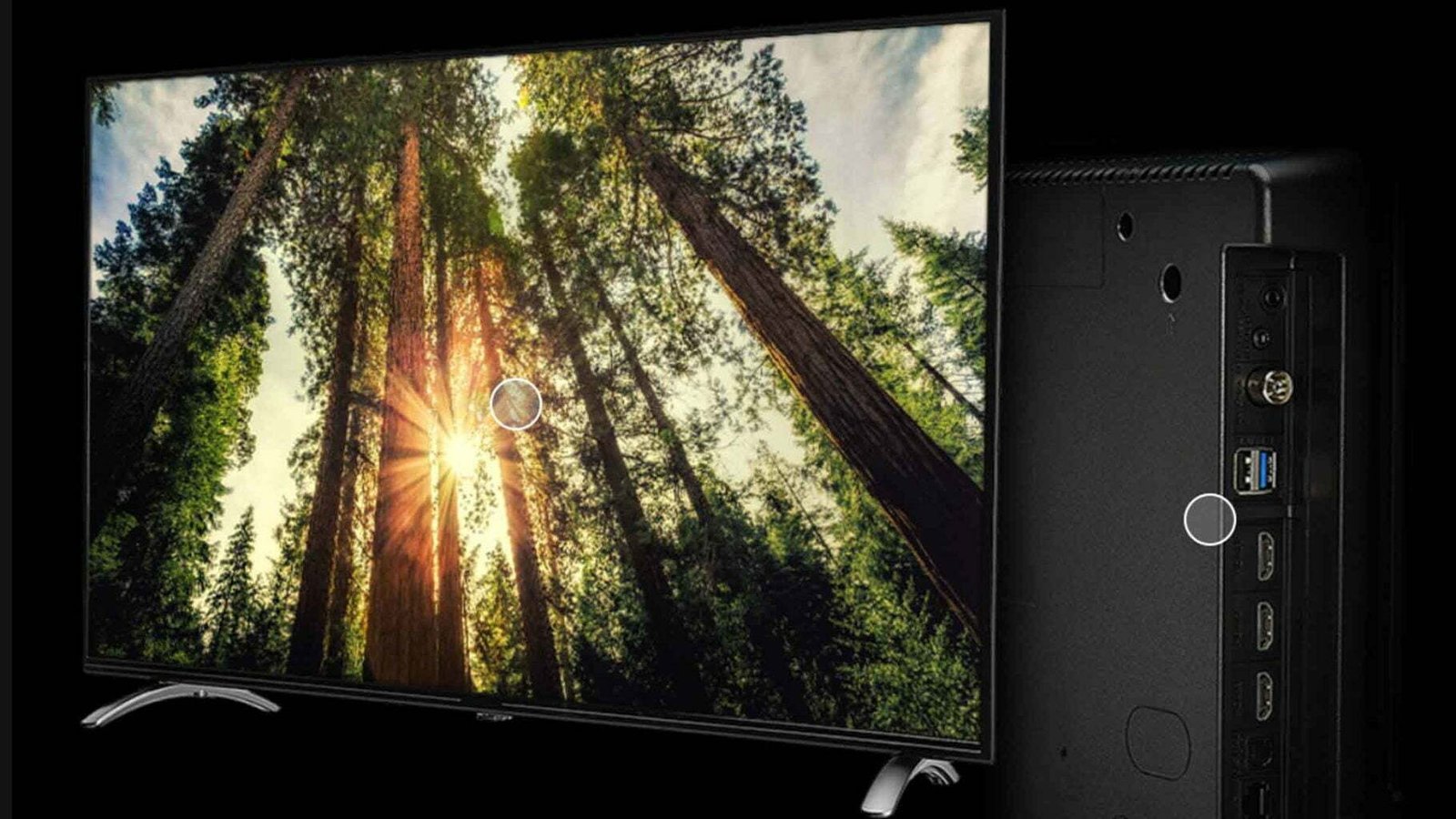 Wireless methods
It comes with dual-band Wi-Fi & Bluetooth v5.0 for wireless connectivity. So, You can easily connect your mobiles & PC to it. It is also helpful for directly casting the screen of other devices to your TV to see photos or watch videos without transferring it to the TV memory.
Wired methods
The AmazonBasics FireTV has two HDMI ports, two USB ports & an IR port.
You can connect the setup box & gaming console through HDMI ports, and USB ports can be used for pen drives, hard drive, or any other USB operated devices.
AmazonBasics FireTV remote controls
1. It has a power button switching on/off.
2. A mic to use Alexa & a quick access button.
3. A round ring for up/down/left/right navigation.
4. Back, home, and a menu button.
5. A forward, backward, and play/pause button for easy control when watching videos.
6. It comes with a button dedicated to OTT platforms for direct access to prime video, Netflix, amazon music & apps.
7. A mute & setting button.
Pros & Cons of AmazonBasics FireTV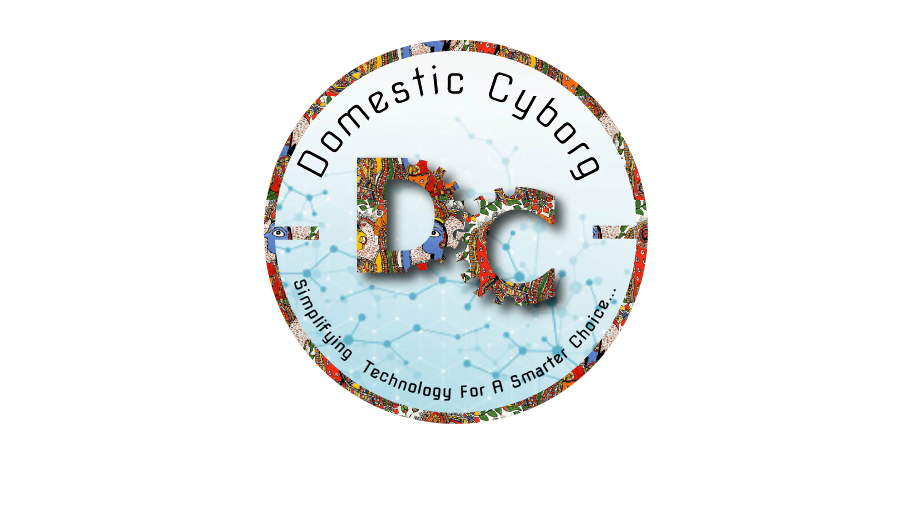 Buy for : Budget friendly 4k TV with an Amazing OS
Final Verdict
If you are looking for a good 4K TV within budget and very high-quality inbuilt speakers are not on your must-have list, the AmazonBasics FireTV can be an excellent option to consider. It has got a highly optimized operating system and some very good features to consider.
In the end, we can conclude this AmazonBasics FireTV Review by saying that it's a value for money product that Amazon is offering. If you like it, go ahead and buy it without any hesitation.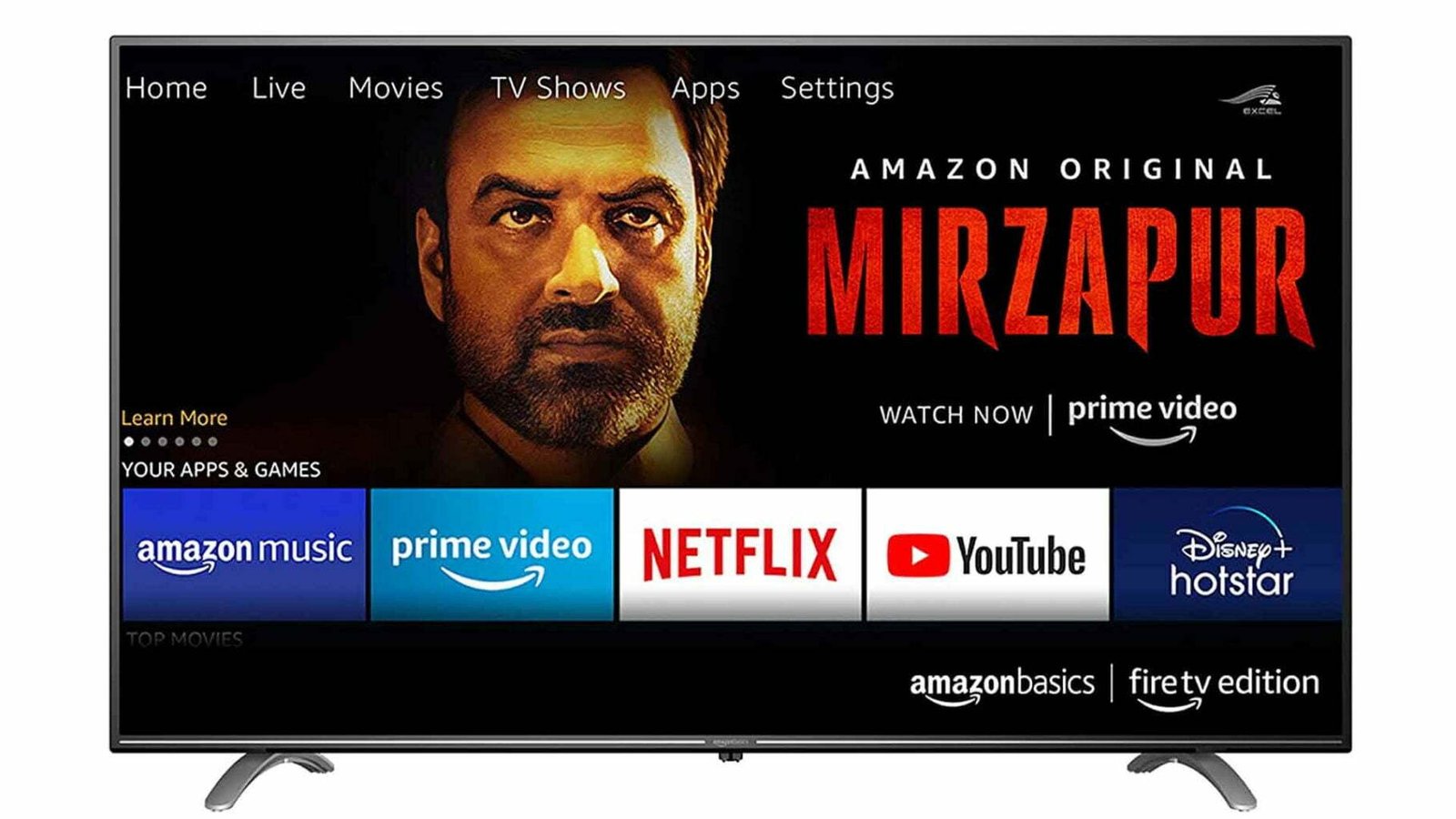 AmazonBasics 139cm (55 inches) Fire TV Edition 4K Ultra HD Smart LED TV AB55U20PS
Display – 55 inch
Screen type – LED
Resolution – Ultra HD (4K), 3840 x 2160
OS – Fire TV OS
Storage – 8 GB
RAM – 1.5 GB
Ports – 3 HDMI ports, 2 USB & IR port
Connectivity – Bluetooth & Wi-Fi
Speakers – 20 watts
Additional features – Dolby vision, Dolby Atmos, Anti-aliasing, Dynamic contrast, Dynamic backlight, HDR 10 + HLG, DTH Set-Top Box Integration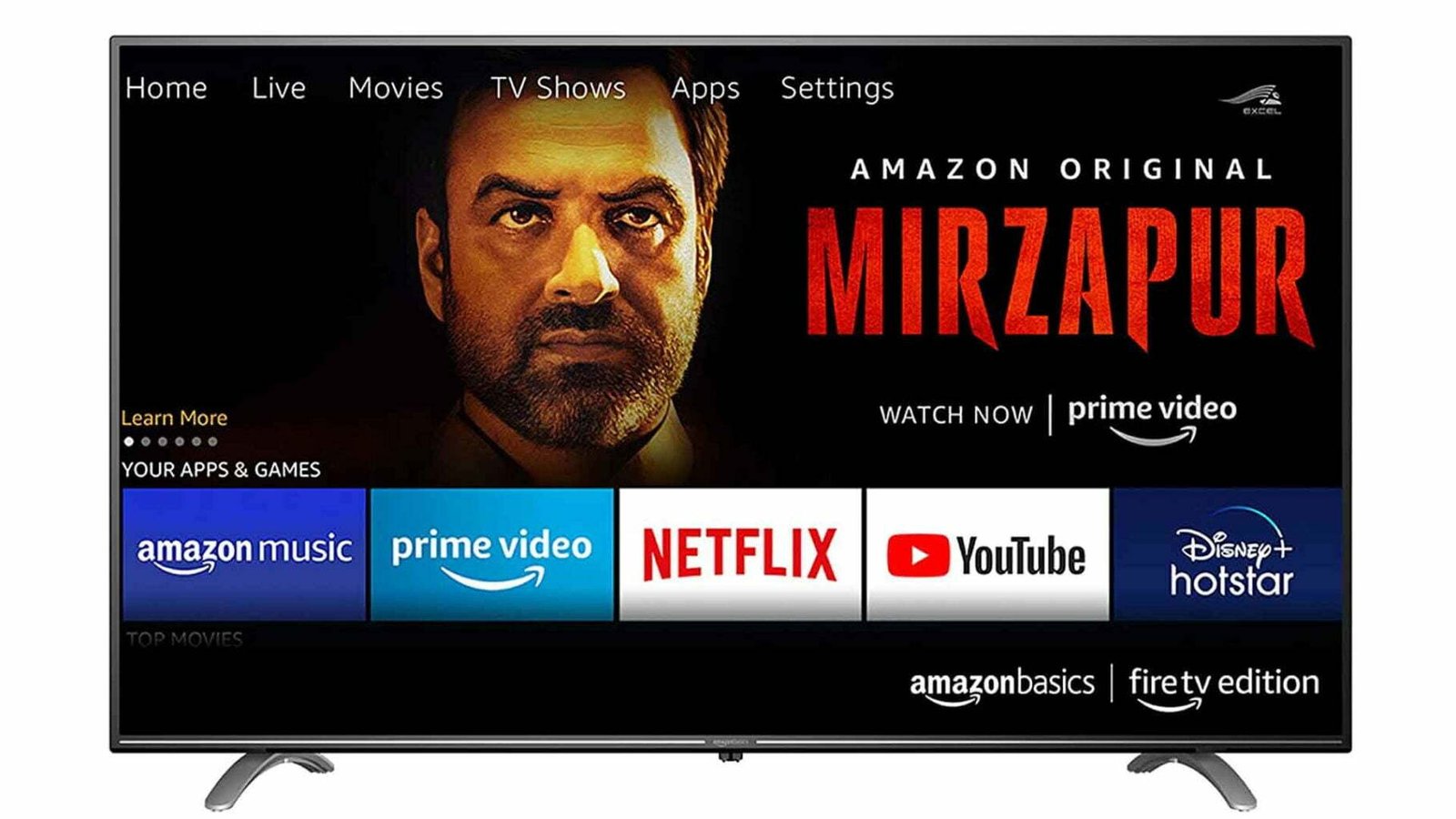 AmazonBasics 127cm (50 inches) Fire TV Edition 4K Ultra HD Smart LED TV AB50U20PS
Display – 50 inch
Screen type – LED
Resolution – Ultra HD (4K), 3840 x 2160
OS – Fire TV OS
Storage – 8 GB
RAM – 1.5 GB
Ports – 3 HDMI ports, 2 USB & IR port
Connectivity – Bluetooth & Wi-Fi
Speakers – 20 watts
Additional features – Dolby vision, Dolby Atmos, Anti-aliasing, Dynamic contrast, Dynamic backlight, HDR 10 + HLG, DTH Set-Top Box Integration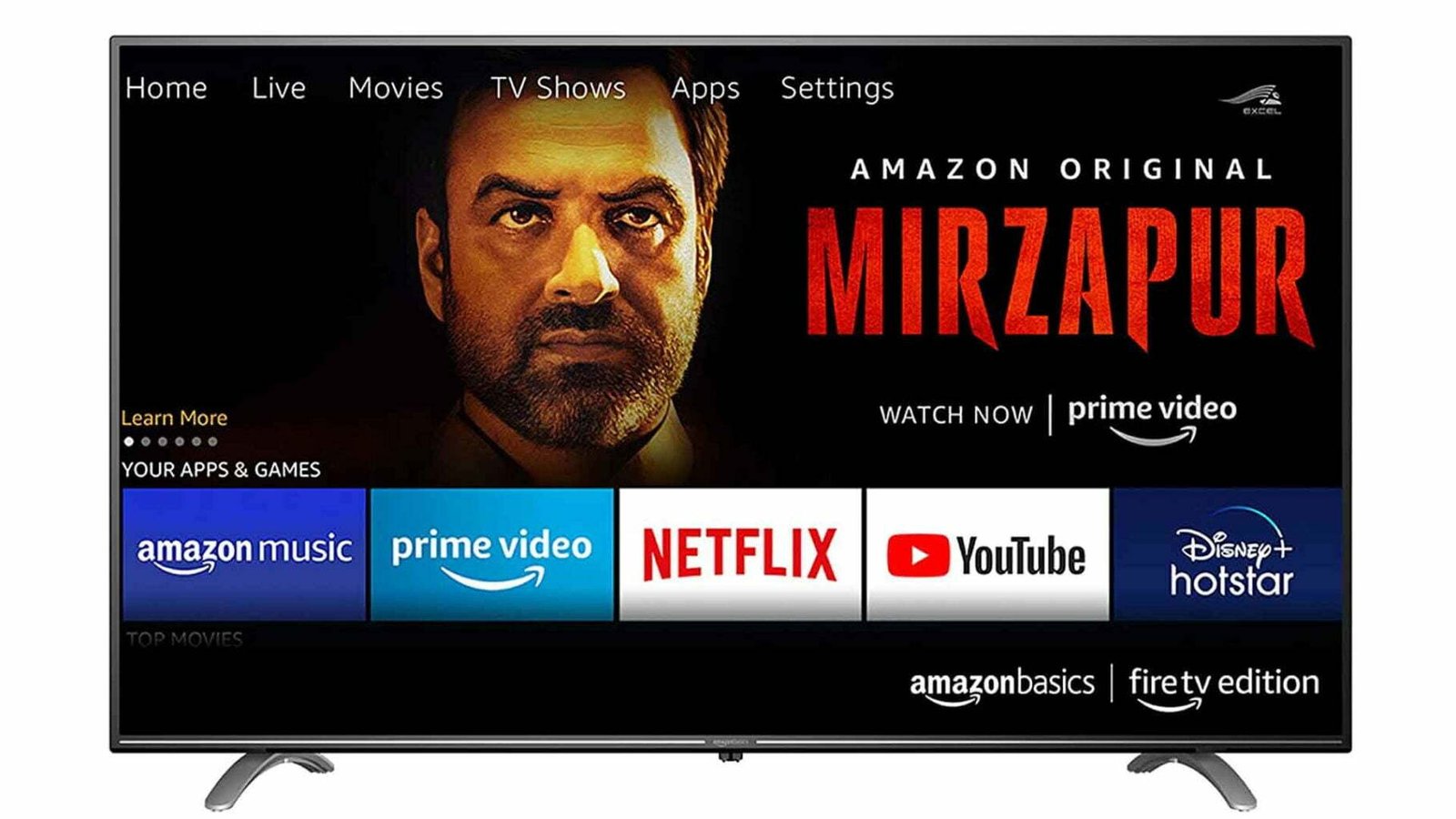 AmazonBasics 109cm (43 inches) Fire TV Edition 4K Ultra HD Smart LED TV AB43U20PS
Display – 43 inch
Screen type – LED
Resolution – Ultra HD (4K), 3840 x 2160
OS – Fire TV OS
Storage – 8 GB
RAM – 1.5 GB
Ports – 3 HDMI ports, 2 USB & IR port
Connectivity – Bluetooth & Wi-Fi
Speakers – 20 watts
Additional features – Dolby vision, Dolby Atmos, Anti-aliasing, Dynamic contrast, Dynamic backlight, HDR 10 + HLG, DTH Set-Top Box Integration
AmazonBasics 109cm (43 inches) Fire TV Edition Full HD Smart LED TV AB43E10DS
Display – 43 inch
Screen type – LED
Resolution – Full HD (1920×1080)
OS – Fire TV OS
Storage – 8 GB
RAM – 1 GB
Ports – 2 HDMI ports, 2 USB & IR port
Connectivity – Bluetooth & Wi-Fi
Speakers – 20 watts
Additional features – Dolby Audio and DTS Tru Surround, Anti-aliasing, Dynamic contrast, Dynamic backlight, DTH Set-Top Box Integration
AmazonBasics 81cm (32 inches) Fire TV Edition HD Ready Smart LED TV AB32E10SS
Display – 32 inch
Screen type – LED
Resolution – HD Ready (1366×768)
OS – Fire TV OS
Storage – 8 GB
RAM – 1 GB
Ports – 2 HDMI ports, 2 USB & IR port
Connectivity – Bluetooth & Wi-Fi
Speakers – 20 watts
Additional features – Dolby Audio and DTS Tru Surround, Anti-aliasing, Dynamic contrast, Dynamic backlight, DTH Set-Top Box Integration