Sell on Amazon India: Best Amazon seller central Guide 2022
With e-commerce booming in its full swing, the online selling of your product is easier than ever before. Many small businessmen think that these online marketplaces are going to eat up their business as more and more people are now shopping online. But, here, they tend to forget that this opens a somewhat more enormous opportunity for them, as now they can simultaneously tap into both the online & offline markets. These businesses already have the inventory & infrastructure of business pre-existing with them. All that they need is a robust online marketing presence & intelligent listing of their products to sell on Amazon India. It won't require any significant investment, and just with the proper knowledge, you will be able to sell your products to the farthest corners of the country.
That's why we will tell you all the technical aspects to sell on Amazon India in elementary steps & easy language. We ensure you that you will be able to take your business online and increase your profit manifold in no time.
Is it profitable to Sell on Amazon India in 2022?
Started 1994 by Jeff Bezos, Amazon began its journey from the American town of Seattle by selling music & books. Started slowly, the growth of Amazon has increased exponentially in the past few years as it has become a member of the Big five US IT corporations. It took almost ten-odd years for amazon to enter the Indian market in June 2013 finally. Since then, it got massive success in conquering the Indian e-commerce market. Right now, it holds almost 50% share of the online market in India is growing each year by inducting new products platforms. You might find it interesting to know that Amazon is the world's 14th most popular website, with its sub-domains operating in more than 20 countries worldwide.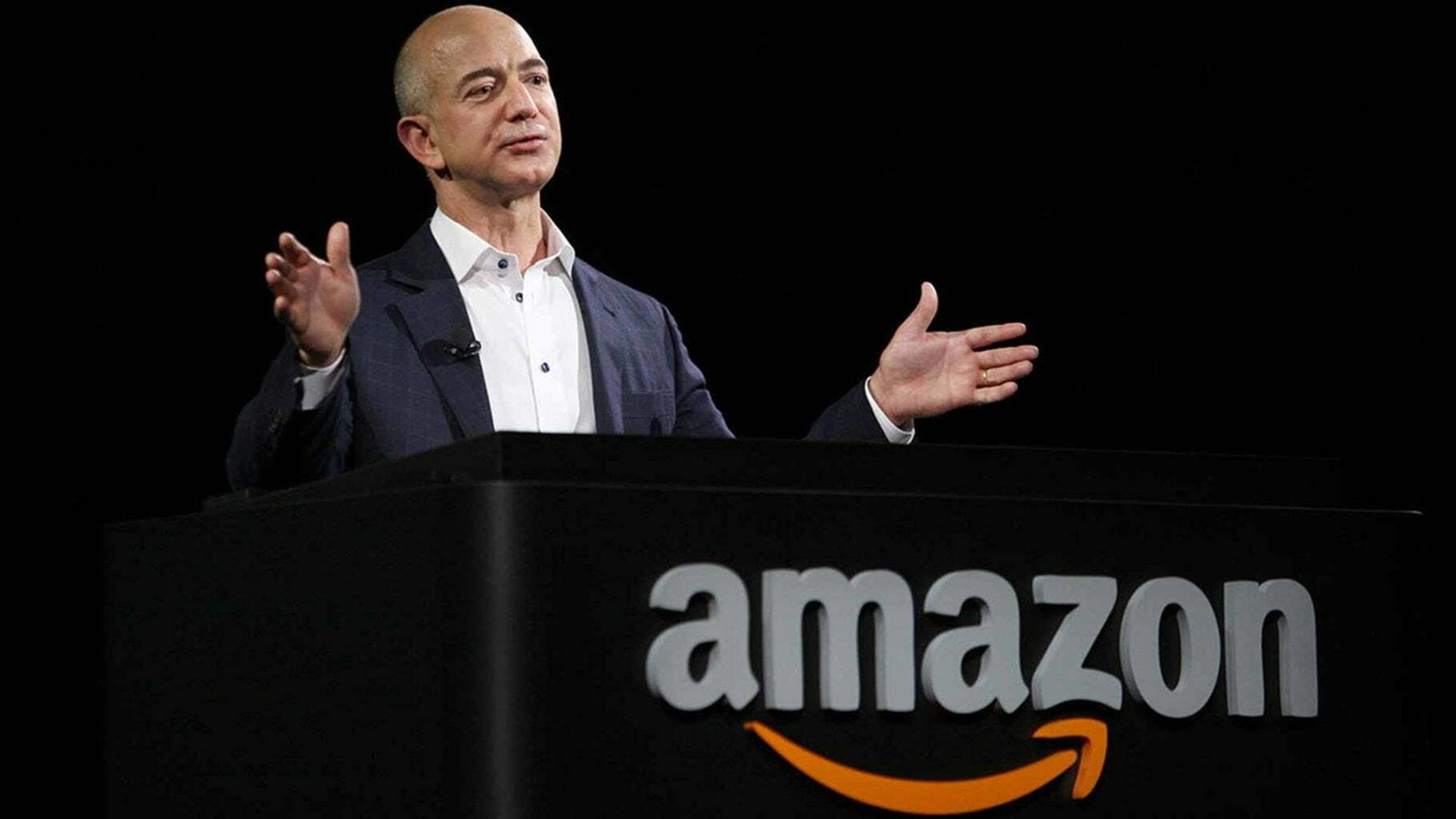 So, the answer to the above question is Yes. To sell on Amazon India is one of the most profitable changes that you can apply to your existing marketing strategy. With no cost, you get to target the customers of the whole country & become able to sell the most profitable products catering for the needs of a particular region, culture or ethnicity.
How to start a business with amazon India in 2022
Starting a business with Amazon India is quite easy & straightforward. Moreover, It's an entirely transparent process if you understand it well beforehand. Here are five great ways to Sell on Amazon India :
Become an Amazon seller
Amazon Affiliate marketing
Sell e-books & audiobooks
Become a delivery partner
Do Warehousing for Amazon
Few of these methods doesn't even require any investment at all. At the same time, some might require a little to high of investments. All you need is to choose in accordance with your available resources and start now to make maximum profit.
What is the Amazon marketplace
The term 'Amazon marketplace' refers to an online e-commerce platform that enables third-party sellers to sell new or used products at a fixed price alongside Amazon India regular offerings. Here it's worth noting that While Amazon is the word often used for the customer-oriented interface. In contrast, the Amazon marketplace is generally used for the seller platform of Amazon.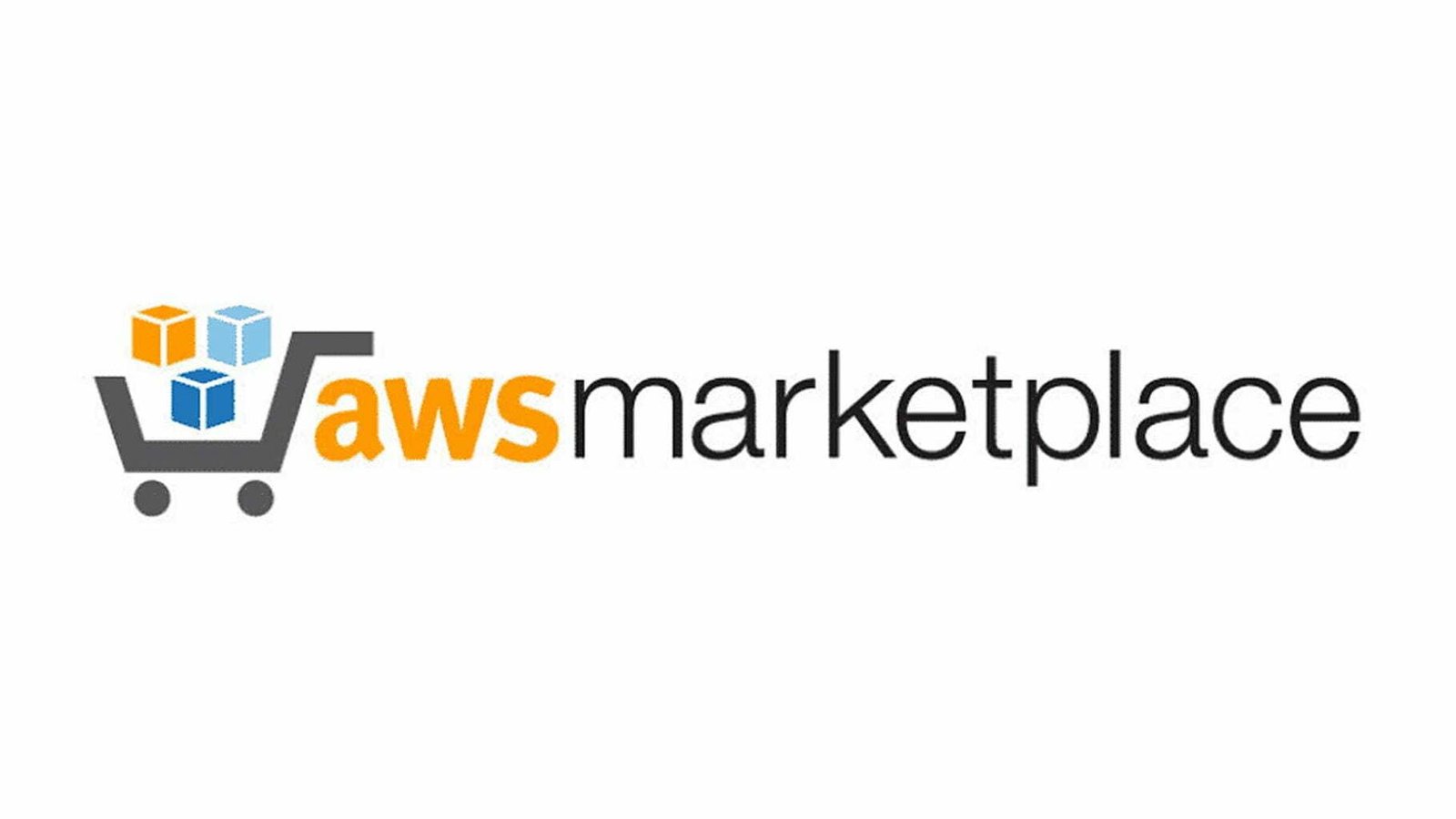 How to become an Amazon seller in India in 2022
More than 15,000 sellers have become millionaires, and over 3500+ sellers have become crorepatis by selling on Amazon India. You can also become one of them just with a bit of knowledge & a pang of hunger for growth. All you need is some typical documentations, a computer/mobile, an internet connection and a product to sell.
Keep reading this article for a step by step guide to become a seller on Amazon India.
Documents required to sell on Amazon India
Some standard documents are needed to sell on Amazon India. Here is the list of things that you need to complete the registration to become a seller :
Active Mobile Number
GST Number (or you are selling in a GST-exempt category)
Pan Details
Active Bank Account
Email ID
Steps for Amazon seller registration in 2022
The process of registration to sell on Amazon India is quite simple 7 straightforward. Just follow the simple steps given below & in no time, you will succeed in bringing your business online.
Step – 2
If your phone number is linked to a customer account, use the email & password to Sign In.
Step – 3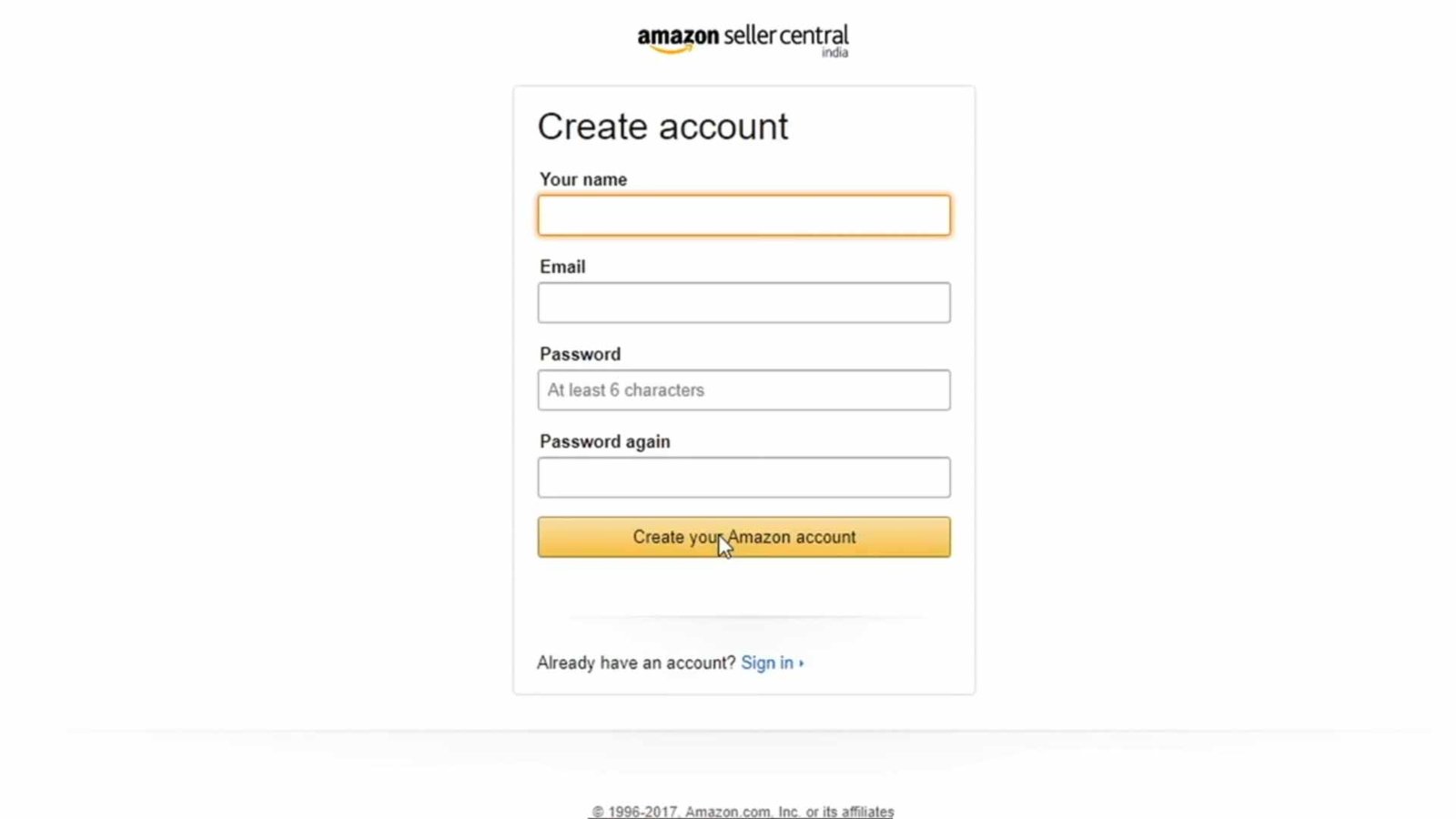 If not, choose 'Create a new account on Amazon.in.


Step – 4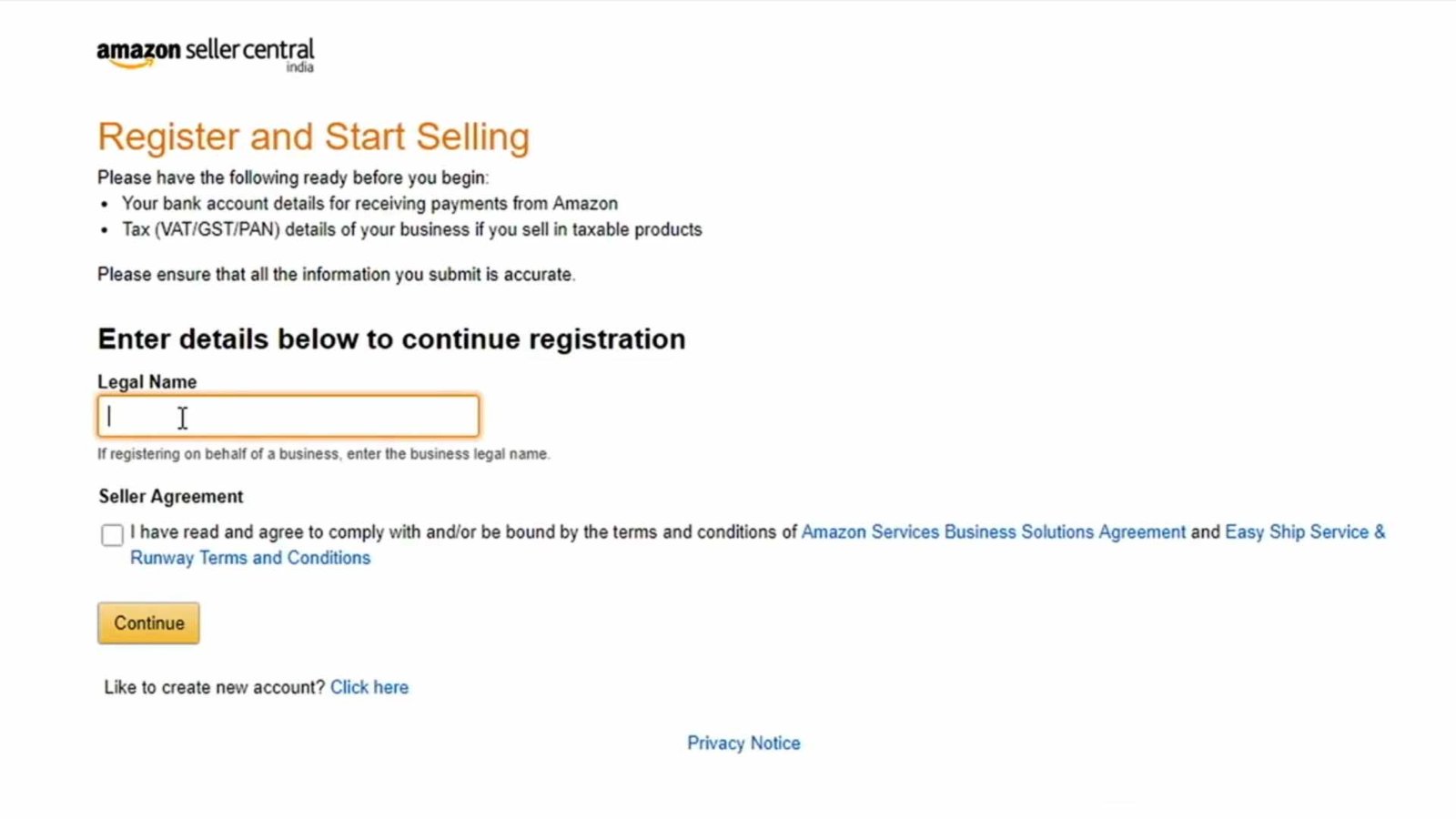 Enter the legal company name provided in your GST.


Step – 5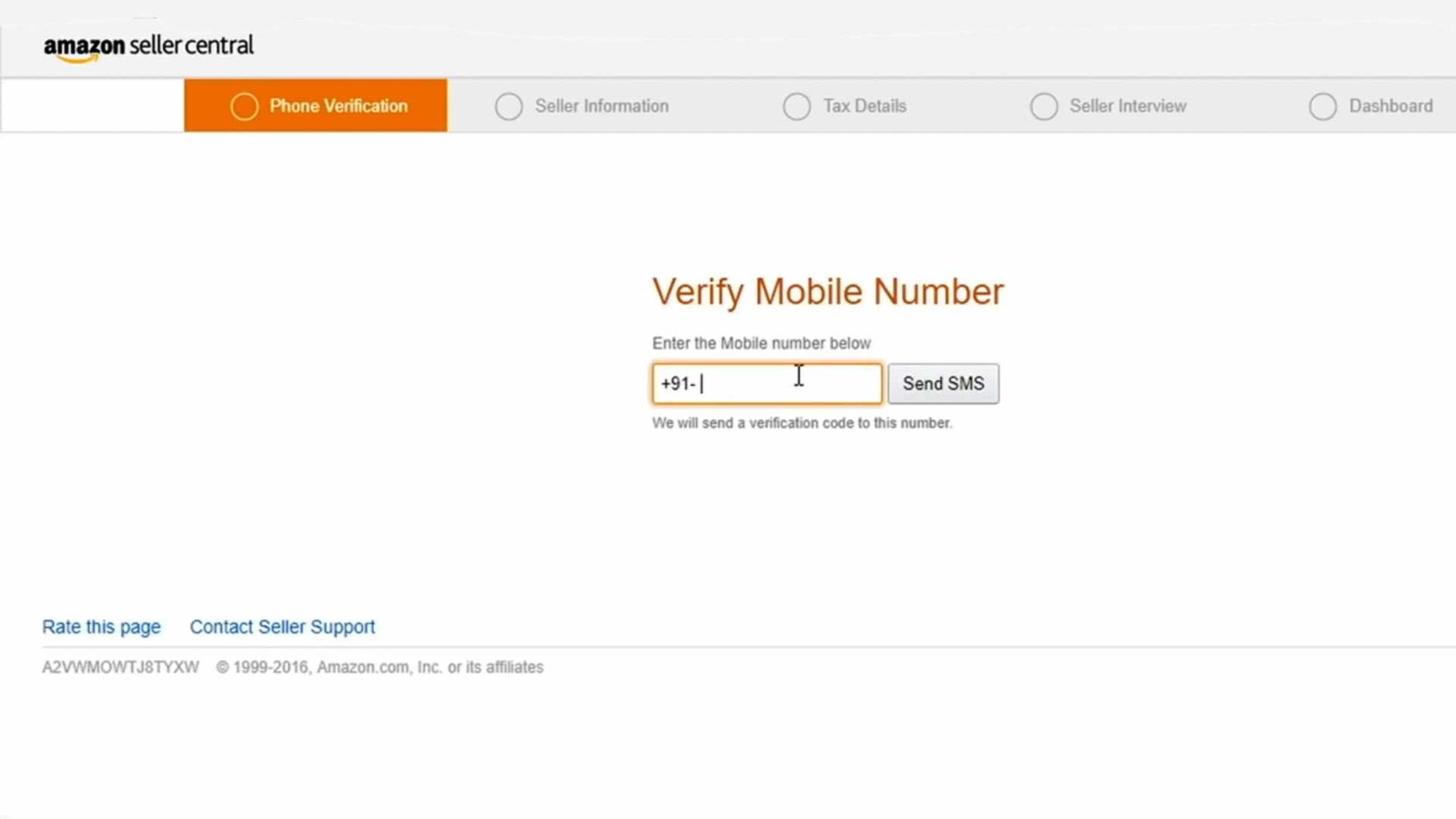 Verify your mobile number through OTP.


Step – 6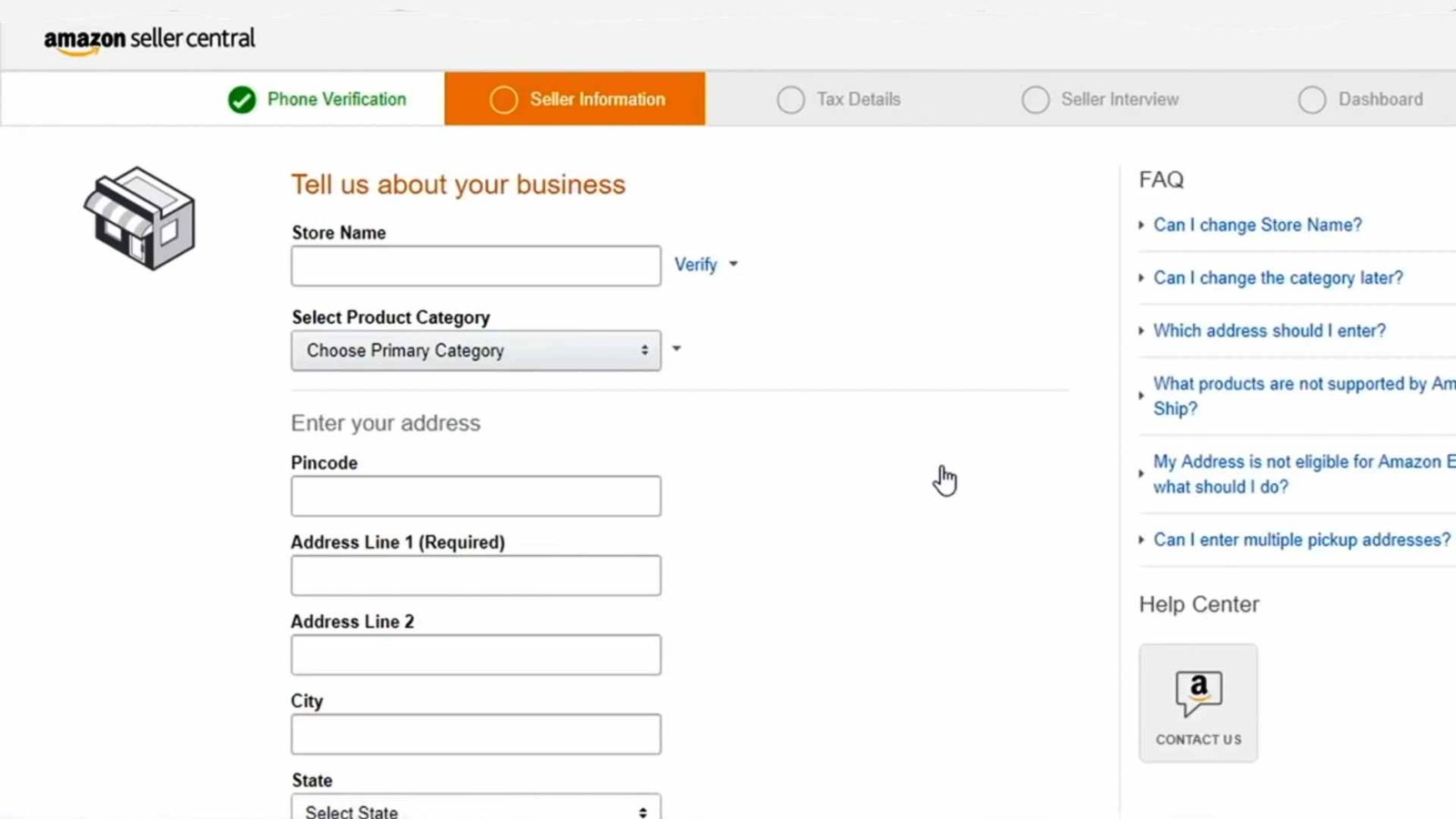 Provide your store name, product and your business address.


Step – 7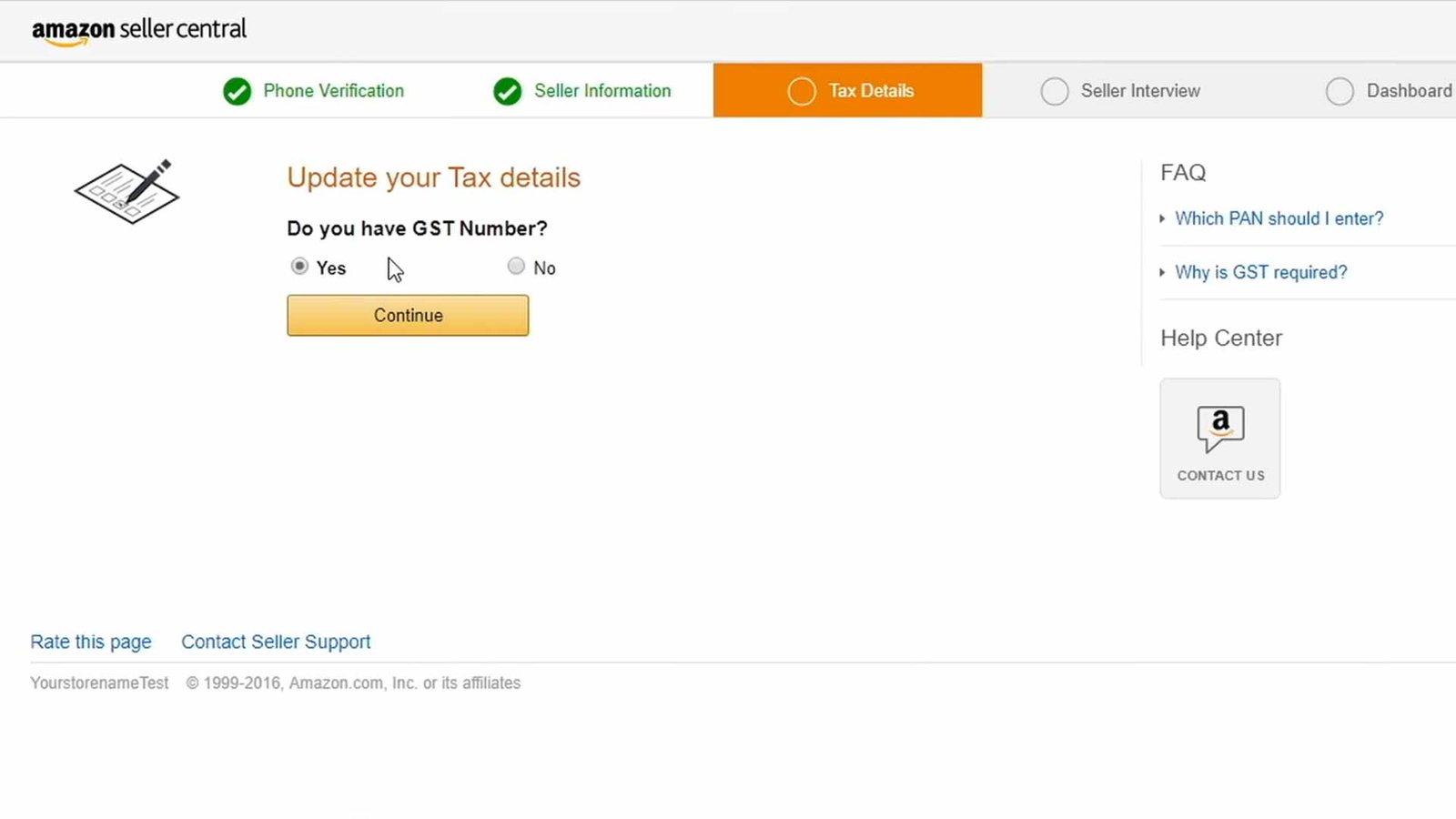 Enter your tax details, including your GST and PAN number.


Step – 8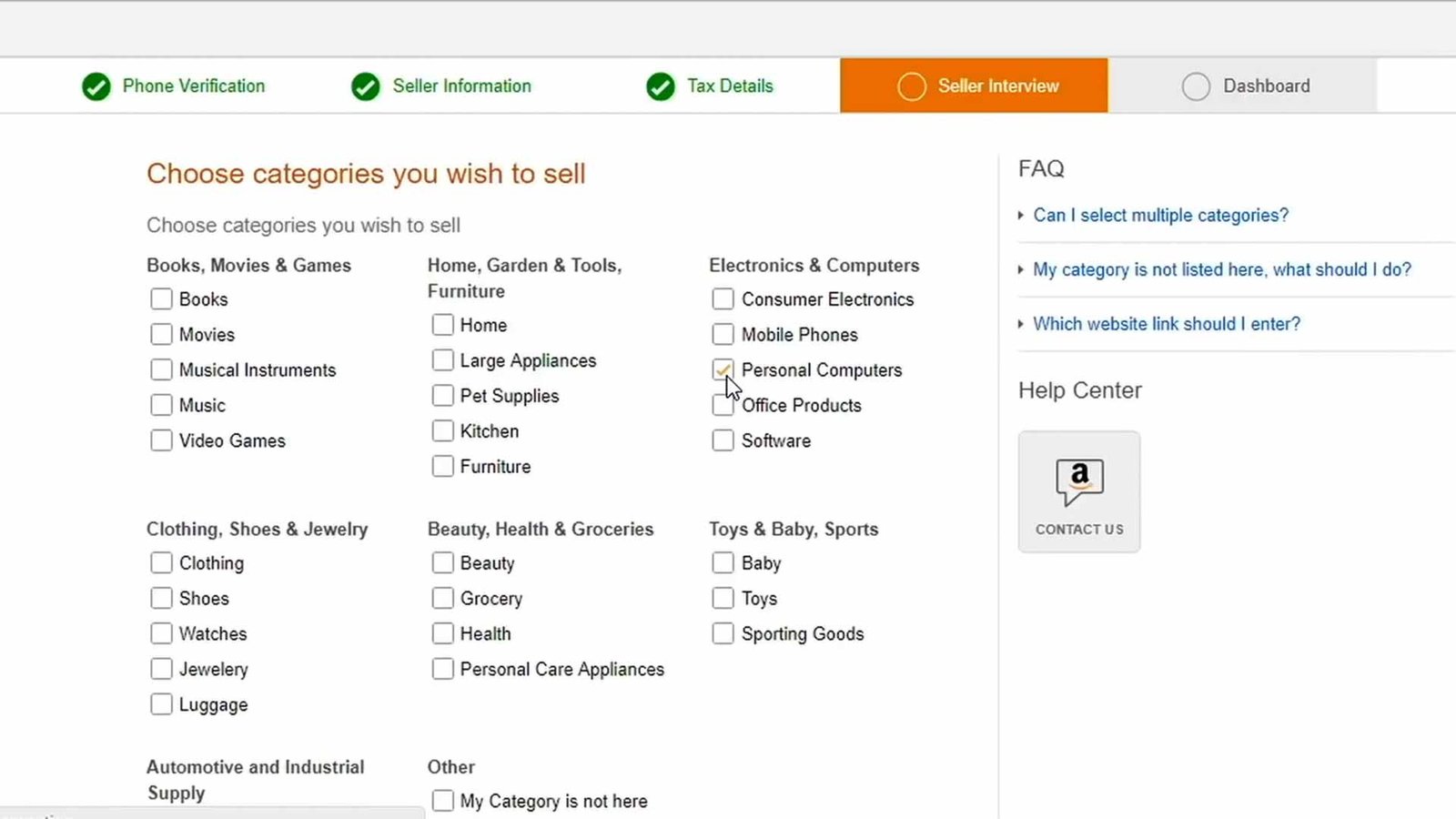 Select the 'Products to sell' option from the dashboard and click 'Start Listing.


Step – 9
Please enter your product name or barcode number to search for it on the existing catalogue of Amazon.in.


Step – 10
If you can't find your product in the existing catalogue, choose 'I'm adding a product not sold on Amazon' to create a new listing.


Step – 11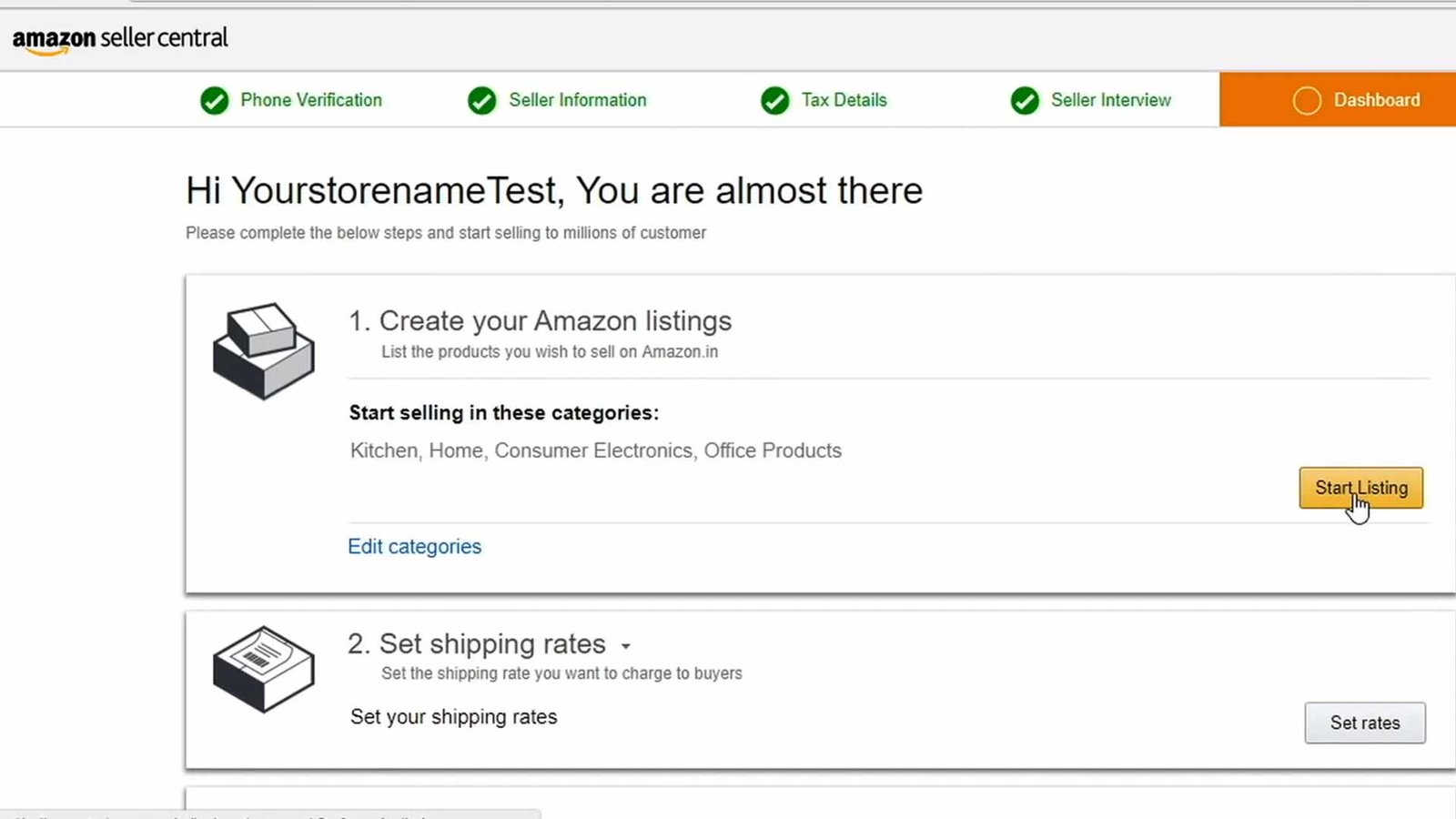 Enter your product price, MRP, product quality, condition and your shipping option.


Step – 12
Click 'Save and Finish' to add the product to your inventory.


Step – 13
Go to your selling dashboard, add any remaining details, and upload your digital signature.


Step – 14
Click on 'Launch your business.
Amazon seller account
Amazon Seller account is your online profile with Amazon India that contains all your relevant information as a seller on its platform. It has all the legal and financial data of the seller. It is the primary mode of communication between the firm & Amazon.
Cost of selling on Amazon India
The cost of selling on Amazon India varies from product to product. It also depends on what type of support & assistance you want from Amazon India to market & promotes your product on their marketplace. However, there is a definite set of charges levied by Amazon India in exchange for using their platform to sell your product.
The main cost of selling on Amazon India includes the following charges & fees:
Referral Fee- Starts from 2% and varies by category
Closing Fee- Varies by product price range
Shipping Fee- Courier charges if you opted for self-shipping
Other Fee- FBA specific Fee
Cost of selling on Amazon India = Referral Fee + Closing Fee + Shipping Fee + Other Fee
Another amazing partnership program which you can check out to take your Business online without any investment
How to sell on amazon mobile?
Amazon India seller app
Keeping a close eye on your sales & monitoring the various aspects of your business like inventory, orders etc., are vital for your business. But, in conventional ways, it isn't easy to carry all the documents with you all the time. To address such issues, Amazon also has a mobile application dedicated to its seller community.
Using the Seller app of Amazon India, you can now operate your e-commerce business on the go, anytime & anywhere. Compatible with mobile operating systems, this app can be downloaded from the play store.
Different dimensions of Amazon marketplace
The Amazon marketplace is a centralized platform that is divided into more branches based on different selling criteria. Following are the major dimensions of the Amazon marketplace:
Amazon seller central
Amazon vendor central
Amazon India global selling
Amazon seller central- Amazon India
Amazon seller central is a centralized platform to cater to all the needs of an Amazon India seller. From managing your orders to getting your payments and getting help regarding any relevant issue, Amazon seller central is a one-stop solution for every business. Following are the things that can be managed through Amazon seller central:
Catalogue
Inventory
Pricing
Orders
Advertising
Program
Reports
Performance
Apps & Services
Amazon vendor central
Amazon vendor central is a B2B platform of Amazon India, which directly buys bulk orders from the vendor. In simpler words, you can assume yourself as the wholesaler & Amazon as a retailer in this business model. It is very beneficial for the businesses who have their manufacturing units & has the capability to fulfil bulk orders within a short time frame.
However, the Amazon vendor central is an invite-only group. There is no other way to sign in into it without an invitation from Amazon India.
Amazon vendor central is entirely different from Seller central & FBA programs of Amazon. The ASC & FBA are B2C business models where the seller directly sells to the consumer instead of catering bulk orders from Amazon.
Amazon India global selling feature
There are various products that are not very profitable to sell inside India, but at the same time can earn you a lot of profit in foreign countries. Products like Ayurveda & India- specific items always remain in enormous demands in international markets. Moreover, the selling price can be much higher due to currency exchange rates.
Now, all retailers & businesses on amazon India have an option to sell their products in over 180+ countries all over the world. Registering on amazon global gives you the opportunity to target the global market of countries like the Americas (US, Canada, Mexico & Brazil), Europe (Spain, France, Italy, Germany, Sweden, Netherland, Turkey & UK), Middle East (UAE, Saudi Arabia) & Asia-Pacific (Japan, Singapore & Australia). There are 17 international marketplaces that you can tap into through Amazon global.
Cyborg suggests:

We highly recommend you to go for the Amazon FBA program if you plan to sell your product outside of India. Any fulfilled by amazon product relieves you from packaging & shipment hassles as well as the payments are also more simplified. However, you still have the option of self-shipping if you know what you are doing.
Fulfilment by amazon India- Amazon FBA business
The FBA program of Amazon is a boon for the people who are new to e-commerce and don't know how t handle the different aspects of selling online on Amazon India. All the approved products for Amazon FBA are entirely managed by Amazon itself and thus get a higher chance to rank above other competitors. The FBA badge also generates a sense of trustworthiness & reliability in the customer's mind, and there are high chances of immediate order.
Here are some of the most significant benefits of opting for Amazon FBA business :
Offer unlimited free & fast deliveries to customers.
You don't have to worry about inventory storage as your products are stored in Amazon India Fulfillment Centers.
Amazon does the picking, packing, & shipping.
Customer service & returns are managed by Amazon India.
It makes you eligible to become a prime seller immediately.
However, you should know that this service is not free, and Amazon India is going to charge you a pre-defined amount of money in lieu of the facilities provided.
You can calculate the exact fee by using the Amazon Fees calculator
Listing products on Amazon India in 2022
Listing your products on Amazon India is one of the most important things that you can do to promote your product on the Amazon marketplace. Providing better quality images, videos, accurate product description, and answering the customers' questions will mark you as a trusted seller in the eyes of both customers and amazon India.
While creating your product page, think about what customers come looking for. It will help you in putting down the relevant information for customers. So, always keep these in mind while listing your product on Amazon India:
Customers compare different products before making a purchase.
Customers look at the product image, video, and specifications to decide if it suits their needs.
Providing complete & accurate product details helps them buy your products, generating more sales.
Amazon programs for helping the sellers of Amazon India
Amazon support & helpline is one of the most helpful customer support in India. We all know that it works excellent for amazon customers, but it also works very efficiently for the sellers. Amazon runs various seller exclusive programs to support its sellers to make their e-commerce journey more comfortable & easy.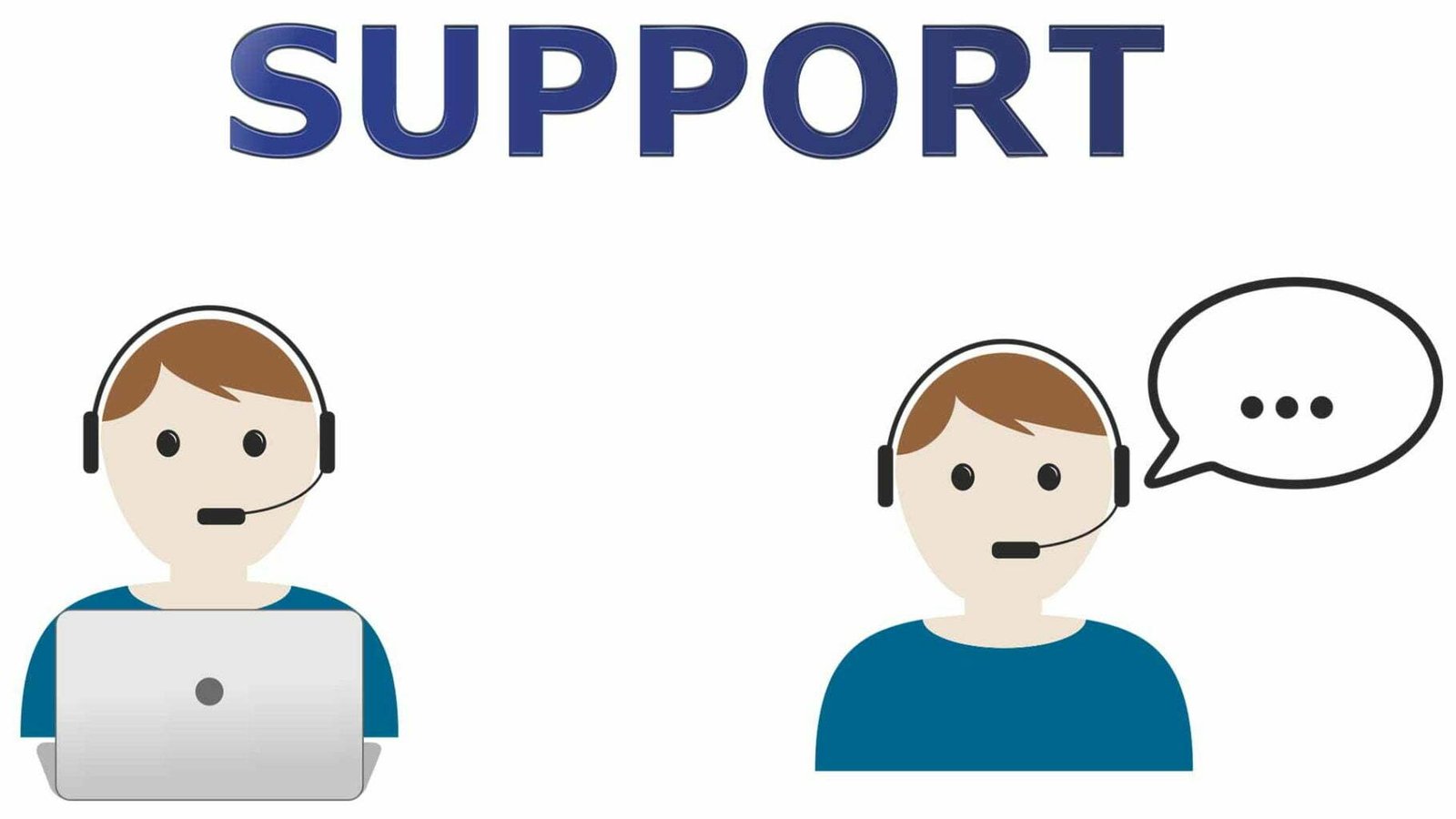 Here are some of the most remarkable programs that Amazon runs for its sellers:
Amazon STEP program
Service provider network (SPN)
Amazon Saathi
Digital starter kit
If you want to know the details of these programs, you can ask it in the comments & we would be more than happy to answer all of your queries.
Can you Sell on Amazon for Free?
If you don't apply for Amazon FBA and use your inventory & shipping solutions, your selling cost will be reduced to the minimum. But at the same time, you might have to put some extra amount of work to manage everything, and the total cost will also increase.
It's your job to calculate the selling medium which is most profitable for you & decide the price of your product accordingly. It might take some time to optimize the final selling price of your product based on your competition, but believe me, it's better to take time beforehand than to repent later for losses.
Things that you can't sell on Amazon India
Products that Completely banned on Amazon India
Plastic carry bags with a self-carrying feature, Plastic cling films, Plastic stretch wrap film or stretch film, Plastic shrink film, Plastic and Thermocol plates, Plastic and Thermocol cups and glasses, Plastic and Thermocol spoons, knives, forks, Plastic straws, Disposable and Thermocol plastic dishes, Plastic and Thermocol bowls and containers, Plastic pouches to store food or liquids, Plastic coffee cup lids, Non-woven (plastic) bags, Plastic coated carry bags, Plastic coated plates, Plastic flags and buntings, Packaged drinking water bottles (PET or PETE bottles) with a capacity of 200ml liquid and less.
Offensive Artworks & paintings.
Invite only category
Un-certified Gold (9K, 14K, 18K, 22K, 24K), Platinum, Real diamonds (does not include American diamonds) & Precious gemstones (sapphire, ruby, emerald)
Products that require permission to sell on Amazon India
Coins and Paper Money Collectibles
Entertainment collectables like Exclusive memorabilia used by a celebrity such as a pen or apparel, Signed merchandise, Digital signed merchandise, Unsigned limited-edition merchandise.
Large furniture & large appliance needs a special commitment of shipping, installation support & warranty compatibility inside India.
Best products to sell on Amazon India in 2022
All-time Best selling products on Amazon India :
Handicrafts
Home and kitchen products
Electronics, Small appliances and accessories
Apparel, fashion accessories and footwear
Beauty and personal care products
International top-selling products from Amazon India :
Home Essentials including Bedsheets, Pillow cover, Curtains & more.
Health & Personal Care like Hygiene, Personal care, Homecare, Toiletries & more.
Beauty Products, Personal grooming, makeup & more.
Apparel for Men, Ladies and kids fashion.
Office Products and essentials like Dairy, Notepad, Novelties & more.
Hot selling products on Amazon India trending right now
Medical Instruments like Thermometers, BP monitors & more.
Scientific instruments including lab instruments, calculator, lab essentials etc.
Toys & Sports like Kids toys, learning/ activity boxes, robotic toys & more.
Ayurveda personal care & health supplements.
Handicrafts
Products that you can sell on Amazon India without GST number
There are a variety of products that are exempted from GST by the Government of India. Thus, you can sell these products online on Amazon even without having a GST number. These products are :
All kinds of books, including Printed books, Periodicals & Journals, Maps, Exercise book, graph book, & laboratory notebook, Braille paper, postcards, calendars etc.
Grocery & Agricultural products like Cane jaggery (Gur), Palmyra jaggery, Fish seeds, prawn/shrimp seeds, Rice products like Muri, Chiwda, Khoi and murki. Pappad, coconut water, All types of salt, Unroasted seeds like groundnuts & soya beans, Linseed, colza seeds, Sunflower seeds, Hop cones, Cereal straw and husks, Lac and Shellac.
Swedes, mangolds, fodder roots, hay, Lucerne (alfalfa), clover, sainfoin, forage kale, lupines, vetches and similar forage products, whether or not in the form of pellets
Kumkum, Bindi, Sindur, Alta, Kajal [other than kajal pencil sticks)
Bangles (except those made from precious metals)
Contraceptives
Wood charcoal.
Gandhi Topi, Khadi yarn
Jute fibres, raw or processed but not spun
Idols made of clay
Agricultural hand tools such as spades, shovels, mattocks, picks, hoes, forks and rakes; axes, bill hooks and similar hewing tools; secateurs and pruners of any kind; scythes, sickles, hay knives, hedge shears, timber wedges and other tools used in agriculture, horticulture or forestry.
Indigenous handmade musical instruments (as specified)
Slate pencils and chalk sticks., Slates
Indian National Flag (made of textile)
Tips & Tricks to Sell on Amazon India in 2022
If you are new to the Amazon marketplace, these tips might help to generate more sales:
Create a good Listing
Use high-resolution images
Provide a detailed product description
Try sponsored advertisement
Opt for FBA for better product rankings
Become a Prime seller
Do and Don't to Sell on Amazon India
Ongoing Amazon seller offers
Following offers & discounts are currently ongoing for new Amazon sellers in the form of a digital starter kit:
GST Registration support @ ₹799
Listing support @ ₹500
FSSAI licence support @ ₹1500
50% off on seller Training
25% off on professional image & catalogue making
₹2000 free Ad credit
3 months waiver on FBA charges
$500 credit on AWS cloud platform
50% off on advertising optimization
So, what are you waiting for!
Register now and take your first step towards bringing your business online by selling on Amazon India.
FAQ
Can sole proprietor sell on Amazon India?
Yes, you can. You just need to have a GST number and need to follow the step by step process written in this article.
What to sell on Amazon India to make money?
Any product that is allowed by the government to buy & sell inside India legally can be sold on Amazon India to make money. However, the most profitable niches in the current time can be Ayurveda Wellness products, Small kitchen appliances, utensils, home décor & small electronics items.
What should I sell on Amazon India?
Anything that you are passionate about. We suggest you start small with minimum risk and slowly expand as you learn everything about what you are doing.
How to sell on Amazon India without GST?
Certain products are exempted from GST as per the rules & regulations of GOI. Thus, you can sell these products on Amazon without having a GST number.