Smart TV Buying Guide 2022 | Best TV brands in India
Nowadays, television became one of the essential parts of our day to day life. We always choose a TV considering that it will give you the best experience possible for the money we spend. We also understand that It's an expensive product, and it's not like that you can change it frequently. So, here are some essential things you should know before you start the search for the Best TV brand in India during 2022 for your home. Whether it is an LCD, LED, or a Smart TV, we got you covered in this TV buying guide 2022. This article will furnish you with the right knowledge for making a smart buy.
Cyborg says:

For your convenience, we have divided this article into two parts. Firstly, in the "TV Buying Guide 2022", we will discuss the main feature parameters that you should look at. In the second part, we will evaluate all the major & Best TV brands in India during 2022 and understand which one you should select based on your preferences.
So, planning to buy a new television?
Domestic Cyborg will help you to choose the Best TV brand in India during 2022 for your home.
In generalized terms, for the best user experience, there are mainly two things in television that matter the most. Those are its:
Display &
Sound Quality.
But it is not as simple as it sounds. There is a lot of technical stuff that goes inside any modern-day equipment. But don't worry, we are here to make things simpler for you and help you choose the Best TV brand in India during 2021 as per your needs.
PART 1- TV Buying Guide 2022
It is an entirely comprehensive guide for Smart users like you to understand the technologies and features that television uses. It will certainly help you know what you should mandatorily look for while selecting a TV.
Top attributes to consider while choosing the Best TV brand in India during 2022 for your home
1. Display
I that makes the display good for viewing.
For most of us, it's the display that matters the most while buying a TV. You can very easily attach any new sound system if you don't like the inbuilt one, but you can't do anything with the display. So, in this part of TV Buying guide 2022, we will discuss about the main parameters to consider while choosing the right display :
TV Buying Guide PARAMETER 1 -"Resolution"
Resolution is the number of pixels (individual points of color) contained on display. It is expressed in terms of the number of pixels on the horizontal axis multiplied by the number of pixels on the vertical axis.
The sharpness of the image or video depends on the size of the display & its resolution. For a given size of the screen, there is a range of resolution that it can handle. If the resolution gets too low, then the picture will get blurred & pixelated.
In simplified terms, the smaller the screen lesser the number of required pixels. Similarly, more giant screens require more pixels for the same picture quality. i.e., The more number pixels per unit area will result in smoother picture quality.
Most common Standard resolutions available in TV during 2021 are :
4K (4096 x 2160 pixels)
Ultra HD (3840 x 2160 pixels)
Full HD or FHD (1920 x 1080 pixels)
HD(1280 x 720 pixels)
SD(720 x 480pixles)
Cyborg suggests:

For resolution, most of us think that the higher the resolution, the better the picture quality will be.

To some extent, it is true. But for smaller screen sizes, there will be no noticeable change in the picture quality after a specific resolution range if you go on higher resolution. And then further at some point, pictures may get over-sharp, which will decrease the Quality.
TV Buying Guide PARAMETER 2- "Screen-size"
Screen size is the physical size of the screen area where pictures and videos are displayed. The diagonal length of the screen generally gives the size of the display.
The required screen size of a TV can be decided based on our sitting distance.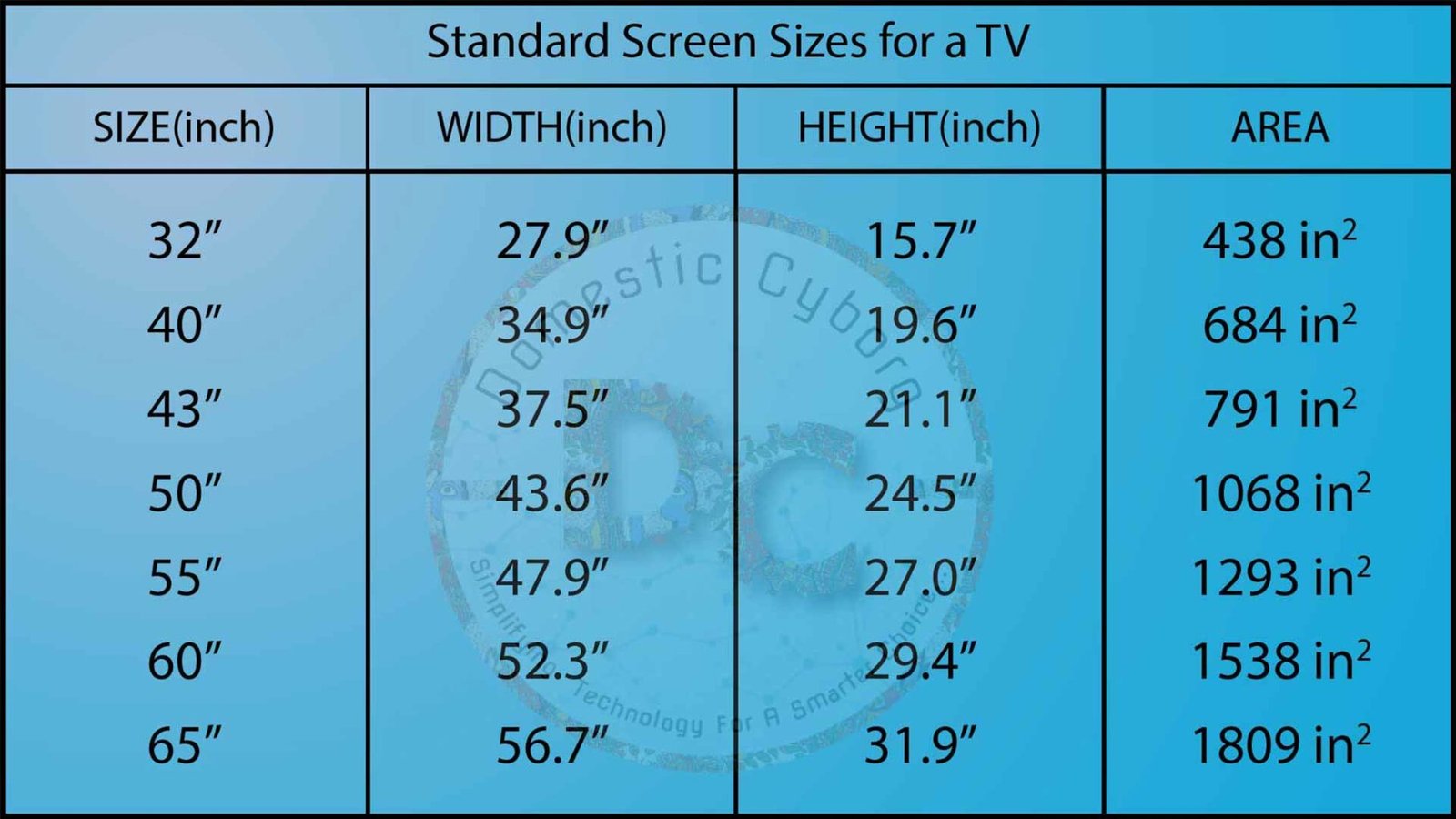 Calculation of viewing distance for TV
Viewing distance (in inches)/2 = Recommended TV size
For example,
If you usually sit 10 feet away from the TV screen, that's 120 inches (10 feet x 12 inches).
Now,
120/2 = 60
So, The best suitable screen size for you is 60 inches. (measured diagonally)
Cyborg suggests:

1. If you are going for a bigger screen, then always go for Full HD or 4K &
2. If the budget is lower, then go for smaller screen sizes (An unit with HD resolution is excellent)

Always keep in mind that if the screen is big & the resolution is low, then the picture quality will decrease drastically.
Also, if your viewing distance is too far, then it doesn't matter that it's 4K or Full HD; they will look the same.
In the list below, we have given some standard Screen sizes with the respective minimum resolutions required for a good viewing experience. Please, check them out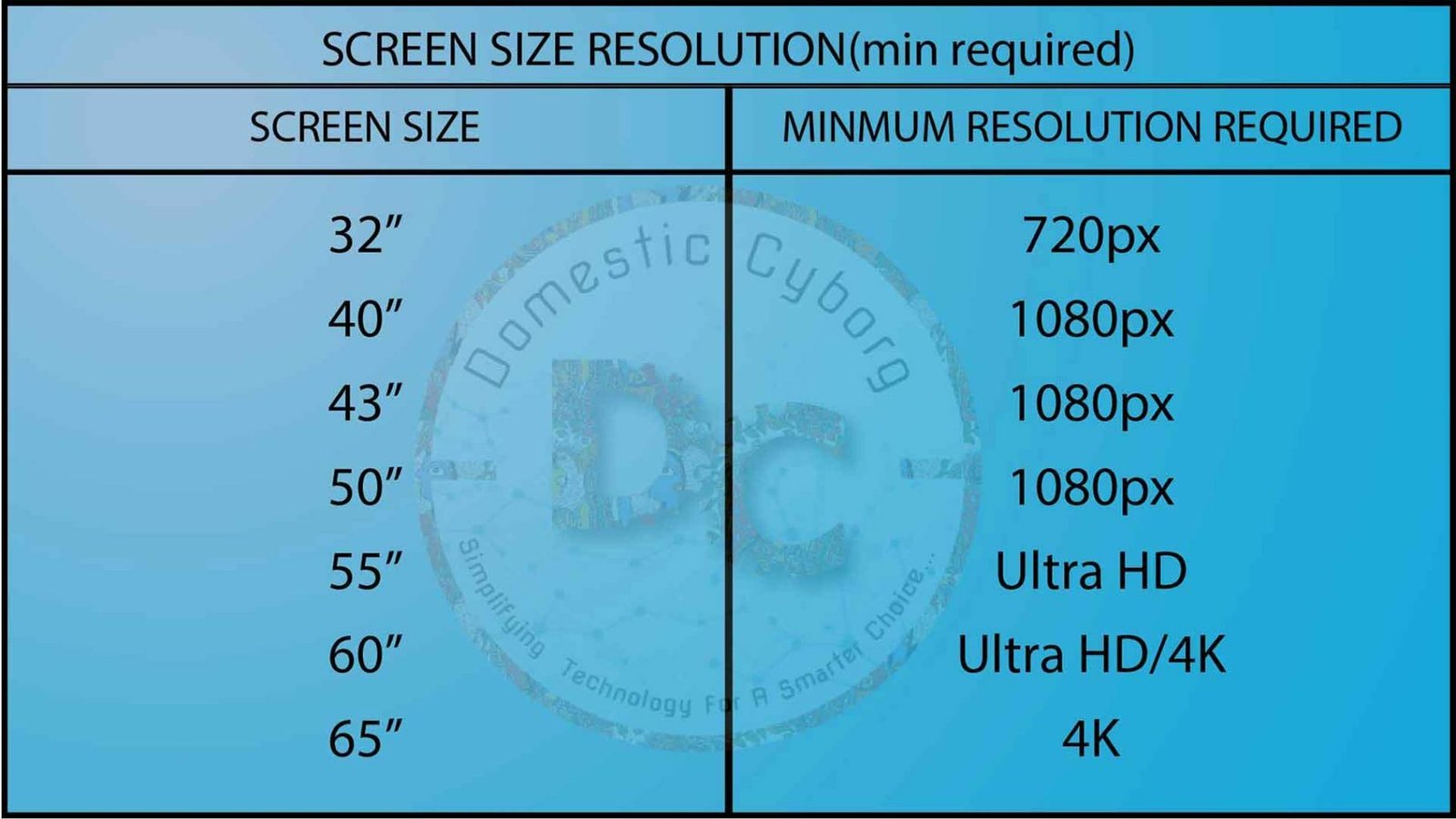 TV Buying Guide PARAMETER 3- "Refresh rate"
It is the capability of television to show the maximum number of static images per second. In simpler words, the refresh rate is how many times per second the TV redraws the image on the screen. We measure it in Hertz. For example, if it says 60 Hz, then it means that this display can show a maximum of 60 static images per second.
Cyborg wisdom:

The refresh rate is often confused with the frame rate (fps or frames per second). They are very similar, and both refer to the number of times a static image comes per second, but the frame rate usually refers to the content itself. In contrast, the refresh rate refers to the video signal or display.

If you are looking for a TV for general use, then it doesn't matter much. The effect of refresh rate only can be seen when You use it for high-end graphics gaming. So, if you are looking for a gaming station, the higher the refresh rate, the better will be the experience. But for the general audience, you needn't pay much attention to this feature.
TV Buying Guide PARAMETER 4- "Contrast ratio"
The higher the contrast ratio, the more you can distinguish between lighter and darker shades of colors. In higher contrast ratio screens, the colors will pop better.
In simpler terms, it is the ratio of brightest a TV can be to the darkest a TV can be. For example: if it says 1000000:1, then it means in an image; if 1 is the darkest point in the picture, then the brightest point can go up to 1000000. The differences in colors are more vividly visible on a screen with a higher contrast ratio.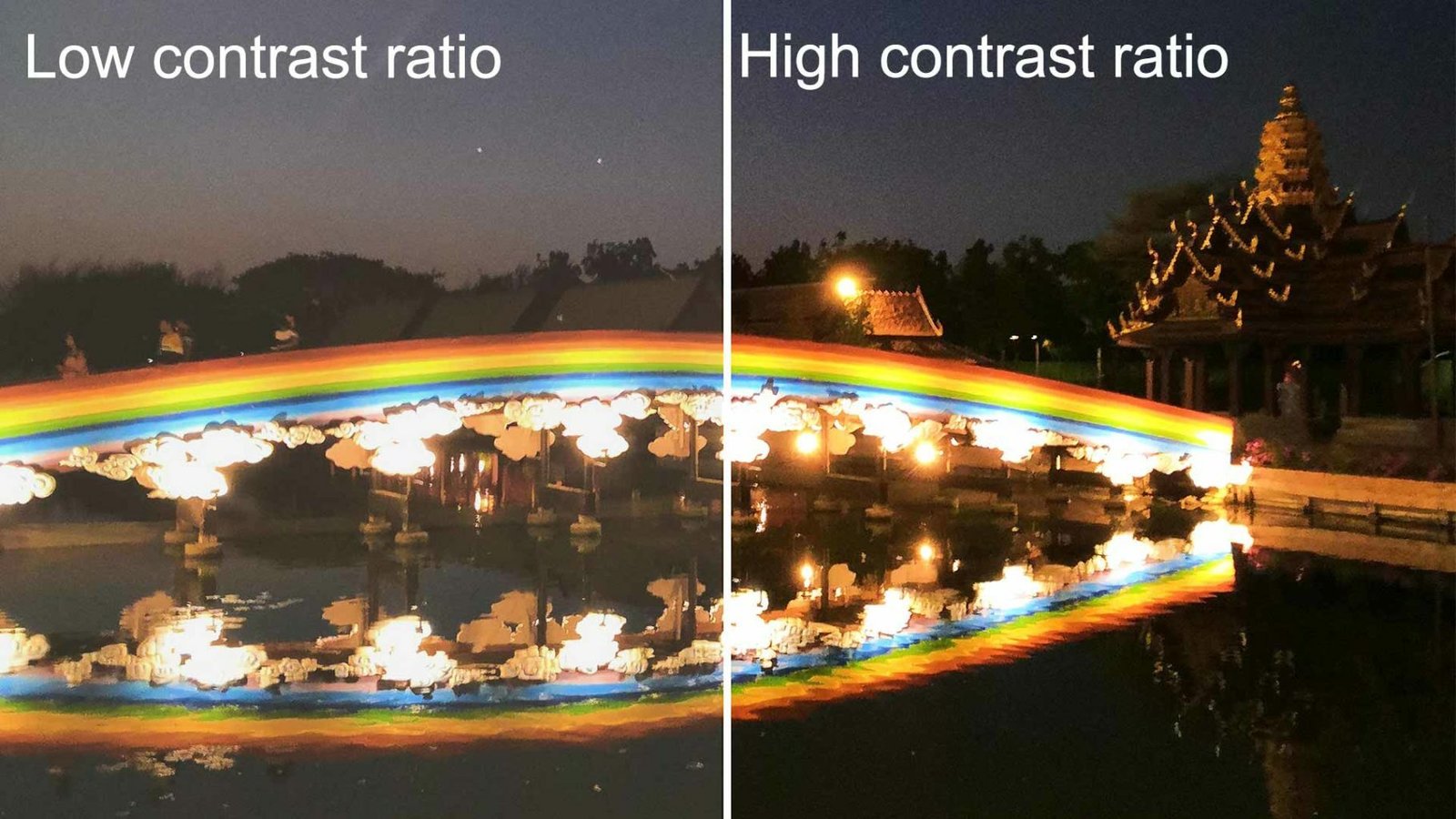 So, the more significant the difference, the better will be the picture quality.
TV Buying Guide PARAMETER 5- "View angle"
It is an angle range where you can sit & watch TV without any considerable drop in Picture quality. If you sit at any angle more than the view angle, the picture quality deteriorates & the picture gets darker.
TV Buying Guide PARAMETER 6- "Aspect ratio"
Aspect ratio is an image projection attribute that describes the proportional relationship between an image's width and height. It doesn't affect the picture quality of the display.
The most commonly used aspect ratio in modern-day televisions is 16:9, which depicts a height of 9 inches & a length of 16 inches.
2. Sound
Although you always have an option to attach a better sound external sound system to enhance your experience in most of the new TVs. But, if you don't want to consider using one, you need to pay attention to the Quality of the inbuilt speakers of the Tv that you are buying.
TV Buying Guide PARAMETER 5- "Speaker output RMS"
RMS stands for Root mean square. It is the wattage that you see as the sound specification of TV units. RMS is the process used to determine the average power output of the speakers over a long period. In deciding the speaker's loudness & Quality, its value can give you an idea of how much loudness a speaker can bear for a more extended period of time.
You may say the higher, the better, but we can't decide the speaker's Quality only on this basis. Based on the RMS value, you can only know the loudness of the speaker in decibels.
Here is a chart showing some general RMS values (in Watts) used in speakers.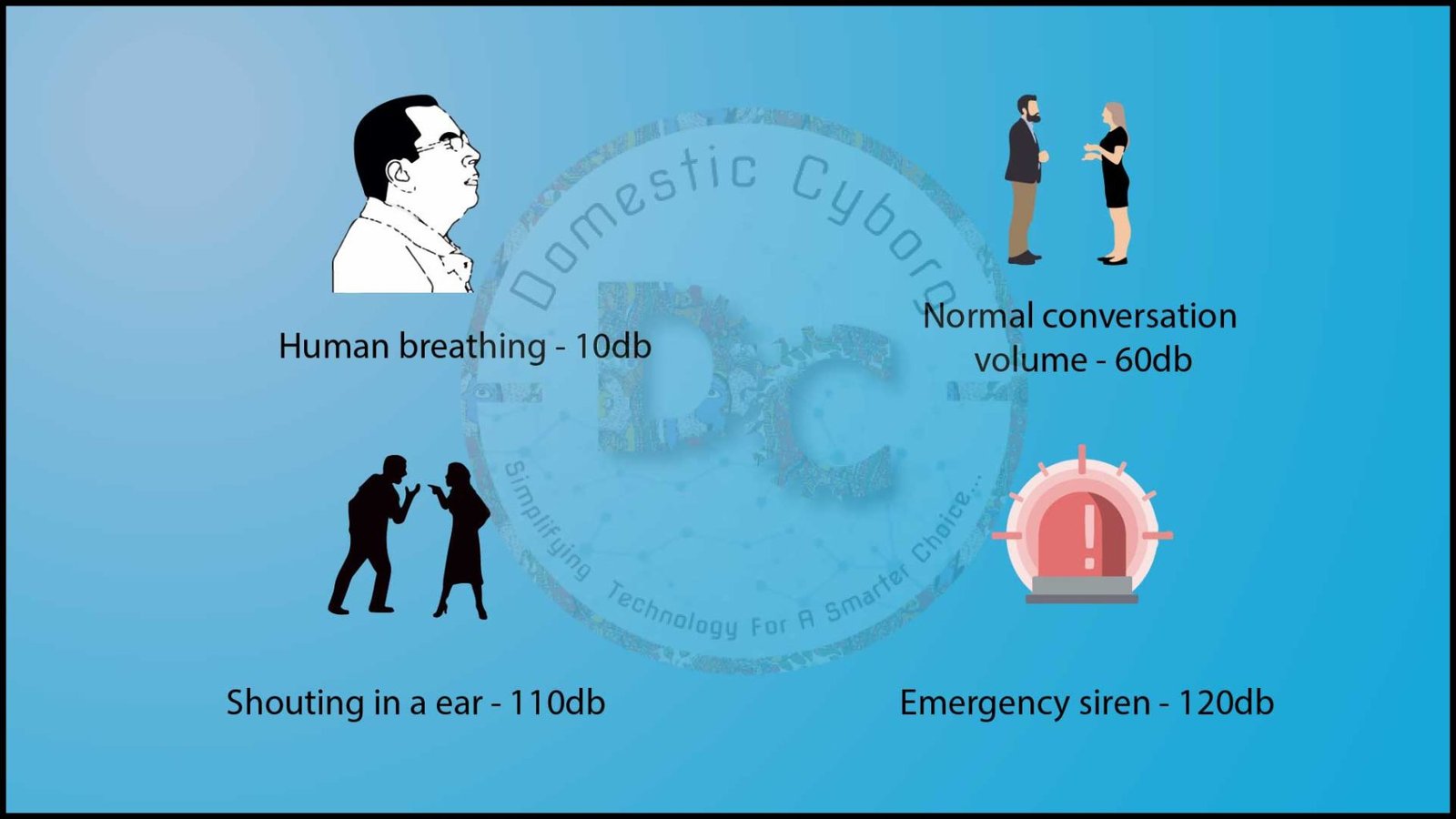 These are the main feature parameters that differ company wise or model- wise & matters the most in enhancing the user experience. Other features are more or less the same & you can decide on them based on your requirements.
We should have at least some technical knowledge of the main features of a Smart TV. It will surely give us an edge in market research and hopefully choose the best TV among market TV listings.
TV Buying Guide 2022- Smart TV Features
Smart TV feature 1– "Processor of a smart TV"
The processor in TV is similar to as of computers. The more powerful the processor is, the better it can handle the apps, games, and features installed on the smart TV. It also avoids any lag in opening or executing the command given to it.
Smart TV feature 2– "Number of cores in the processor of a TV"
Any modern-day Television or smart TV contains a processing unit to analyze data. It has a core that holds an ALU, control unit and registers. Although, CPUs with multiple cores have more power to run various programs at the same time. But, only doubling the number of cores will not simply double up a system's speed. It is so because CPU cores need to communicate through channels that use up some extra speed.

It's better to have more cores, but there is nothing much to do with multi-tasking in a TV, so overall it doesn't matter much.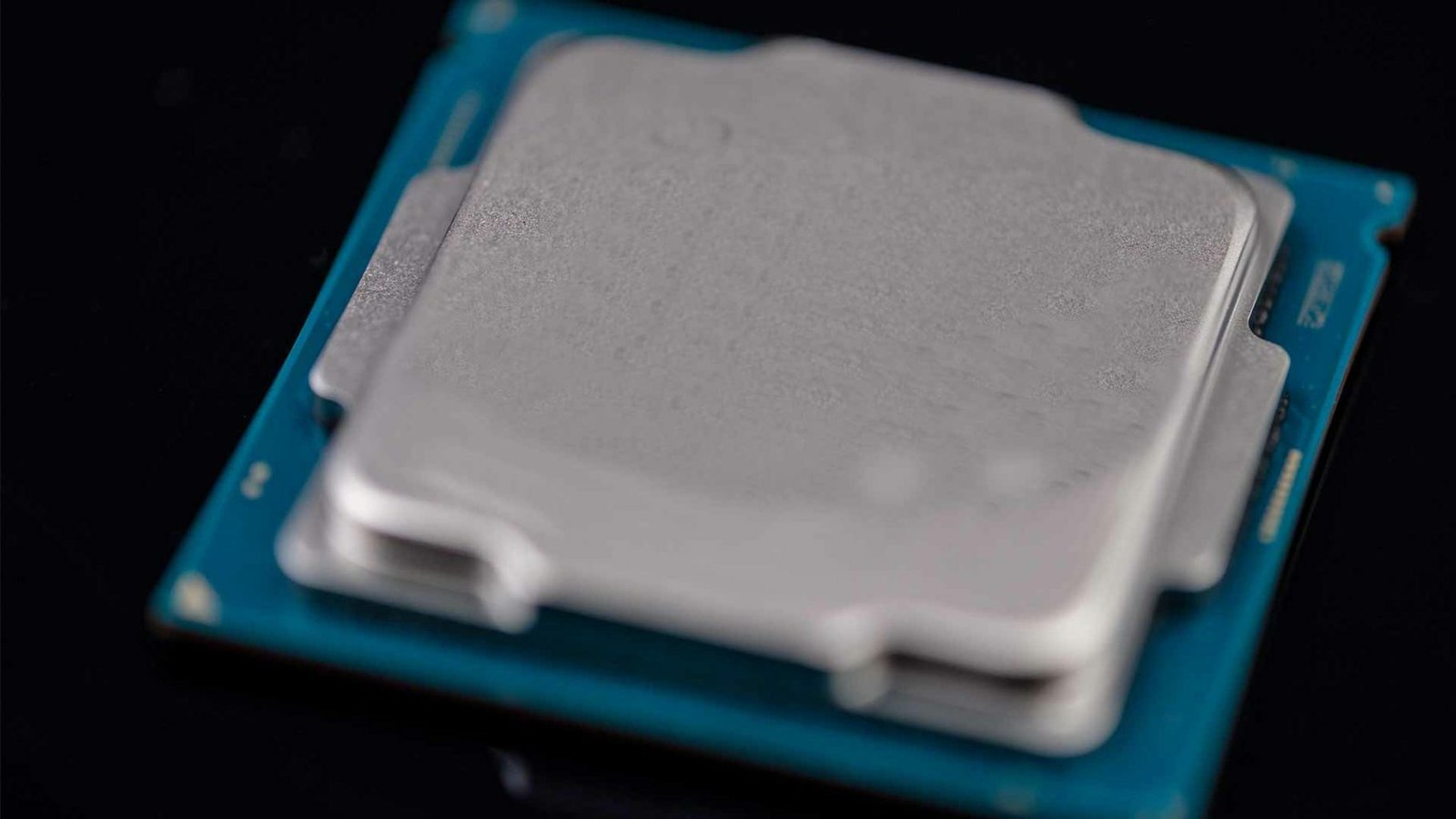 At present, television comes equipped with three variety of cores,
Dual-core (2 cores)
Quad-core (4 cores)
Octa-core (8 cores)
Comparatively, Octa-core is considered better than others. But for moderate use, Quad-core is more than enough for the proper function of your smart TV.
Smart TV feature 3– "Graphics processor in Smart TV"
A GPU (Graphics Processing Unit) is a programmable logic chip (processor) dedicated to 'Display' functions. The GPU renders images, animations, and videos for the screen. The more sophisticated the GPU is, the higher the resolution, and the faster and smoother will be the motion in games and movies.
Smart TV feature 4– "Ram capacity of a Smart TV"
RAM is a component used to store data for a temporary period to run the apps smoothly. So, with the larger RAM size, you can run heavier apps. The most commonly available RAM sizes are:
1 GB
1.5 GB
2 GB
2.5 GB
These are general ram size which comes TV. For moderate use, 1 GB to 1.5 GB is enough for a TV. But if you want to do intense multi-tasking on TV, you can go for a higher RAM capacity.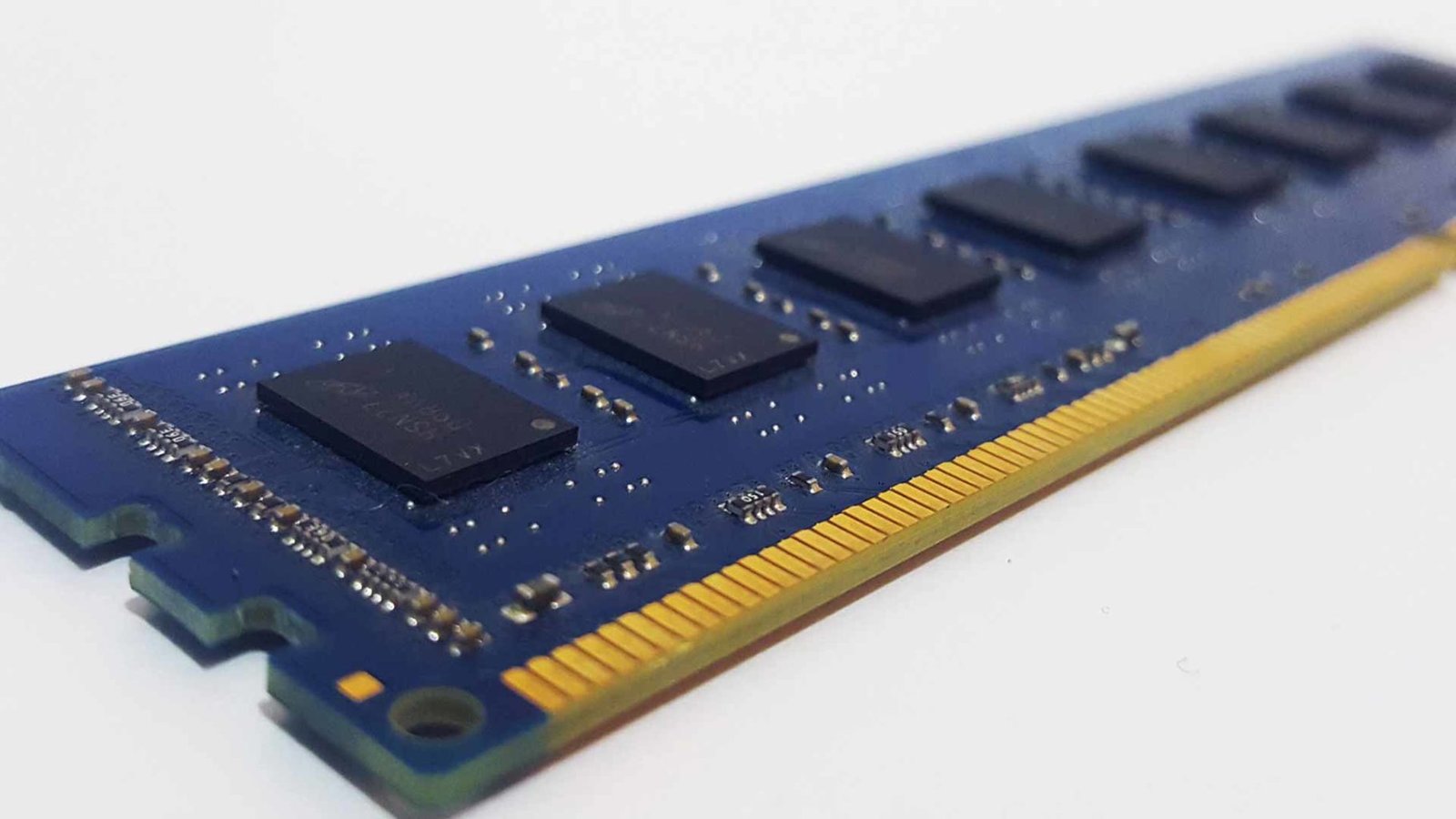 Smart TV feature 5 – "Operating System of a Smart TV"
The operating system of any TV is the HMI that it uses to interact with the user. It is a simplified system to get easy access to the features which otherwise will become very hard to access and use. The more simplified and user friendly the operating system, the easier it becomes to handle it.
Cyborg suggests:

The operating system doesn't matter much in TV; it is just a slight difference of features or interface. But this change solely depends on the manufacturing company that what features they want to provide or how well they design the interface. Then it all comes down to your personal preferences that what you like and what you don't.

The operating system affects the user experience only when you want to play games or run apps that are not supported on that particular operating system.
TV buying Guide – Additional Features to check while buying a Smart TV in 2022
Motion sensor in Smart TV
A motion sensor is an electronic component in TV that detects physical activity on a device or within an environment. It can detect and capture physical and kinetic movements in real-time. It is useful in interacting with the TV, games & other TV features by simple body movements.
HDMI ports
HDMI ports do the job of transmitting high-quality and high-bandwidth streams of audio and video between devices. In simple words, it is useful for connecting devices like HDTV, Projectors, DVD players, or Blu-ray players.
Types of Wi-Fi in a Smart TV
Wi-Fi is a system for connecting two or more devices wirelessly. Nowadays, everybody uses it for data transfer & internet sharing within a limited span of the area locally.
Some commonly used Wi-Fi variations in this relevance can be enlisted as:
2.4 GHz Wi-Fi
We use Signals of longer wavelengths for the transmission of data in 2.4 GHz Wi-Fi systems. 2.4 GHz signal is best suited to transmit signal in a crowded place. The longer wavelength signals are capable of transmitting even through walls and solid objects. If you need better range on your devices or have many walls or other things in your device's vicinity where you need coverage, 2.4GHz is the best option for you.
5 GHz Wi-Fi
We use Signals of shorter wavelengths for the transmission of data in 5 GHz Wi-Fi systems. This type of signal is best suited for stable & high-speed connections. The shorter wavelength used by the 5 GHz band makes it difficult to penetrate through walls and solid objects. It has also got a shorter effective range than the 2.4 GHz band. So, we can use it for higher speed & stable connection in a small area or less congested area.
So, that's all for the significant features you can find in any good TV in 2021. We have tried to uncover all the main parameters you can investigate before buying a TV this year. But, if we have left something that you want to know, you can ask it in the comments section. We would be more than happy to answer any of your Query relevant to this article.
And, if you found this article helpful in any means, please feel free to share it with your family and friends who are planning to buy a Television this year.
PART 2- Best TV brands in India during 2022
In the next section of this article, we will discuss the Best TV brands in India during 2021. We have enlisted the most popular TV brands in India in accordance with their costing and the popularity among the Buyers.
Best TV brands in India during 2022
Sony
Samsung
LG
Best Mid-ranger TV brands in India during 2022
PanasonicTV – (New HX series review)
Nokia TV
Oneplus TV
Onida TV
Toshiba TV
Best Budget TV brands in India during 2022
Sanyo TV
MI
Sansui
AmazonBasics TV
VU TV
TCL Smart TV
Hisense TV